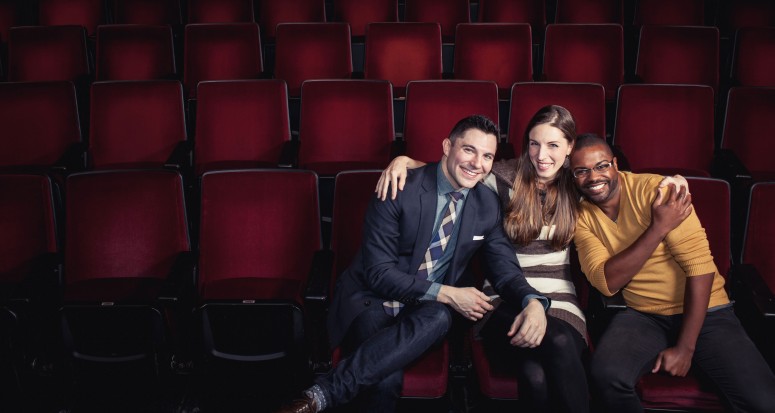 From Kenyon News - October 22, 2015
From left: Jacob Yandura '09, Andrea Daly '06 and Harrison David Rivers '04. Photo by Michael Shane
Of eight new productions presented at the Festival of New Musicals on Oct. 15-16, two had Kenyon connections. Jacob Yandura '09 wrote the music for The Last Queen of Canaan, and Harrison David Rivers '04 wrote the "book," or narrative. Andrea Daly '06 wrote the music for Legendale.
The three knew each other — or of each other — while at Kenyon. They have built on those relationships as they progressed in their musical and theatrical careers.
"Harrison was a Kenyon legend," said Yandura, though he didn't meet him until after their time on the Hill. Rivers is the winner of a GLAAD Media Award, a McKnight Fellowship for Playwrights and the New York Stage & Film's Founders Award.
When Yandura had the opportunity to hire Rivers to take over the book of the musical he had been writing with Rebekah Greer Melocik, he didn't hesitate. "He was born to write the story," Yandura said.
The Last Queen of Canaan follows the story of an African-American Southern landowner in the 1930s, her granddaughter and a Northern do-gooder who wants to collect their story for the Work Projects Administration. "My family has roots in the South as sharecroppers. My mother and grandmother felt like they had personal connections to the story," Rivers said.
Even though he came into development of the musical late, Rivers said the partnership with Yandura and Melocik spoke to his time at Kenyon. "The way in which we collaborated is the way I was introduced to collaboration at Kenyon," he said. "At Kenyon, everything was collaborative. It's a great background for working in musical theater. That's how you build a show."
Legendale, written with Jeff Bienstock, is a contemporary comedy about the power of fantasy, blending romance, adventure and virtual reality with a pop music score. Daly was interested in the project because she is captivated with how intimately technology weaves into our lives. "It sort of fascinates me how you can lead one life in one world and another maybe fully fledged one in another."
This is Daly's first foray into professional musical theater. She usually writes pop and classical music and finished her doctorate in music composition from Stony Brook University last year. "It's a cool thing I've never tried before that fits halfway between the two," she said.
The festival, presented by the National Alliance for Musical Theatre, has been showing new musicals each fall to an industry-only audience since 1989. More than 85 percent have gone on to subsequent readings, workshops, productions and tours. For the 2015 festival, eight musicals were selected from more than 220 submissions.
Daly, Rivers and Yandura are now waiting to see if the festival will lead to further development for their productions. "The fact that these big producers who we would have never met saw it is thrilling," Yandura said.
Daly, who lives in New York, continues to write pop music for Warner/Chappell Music. Rivers, whose home base is St. Paul, Minnesota, is working on several projects including a play commissioned by the New Conservatory Theatre in San Francisco and another musical called Five Points. Yandura, who lives in New York, is preparing to launch his children's musical, Wringer, off-Broadway in April.
The three are grateful to have each other to lean on during the creative processes of their work. "A lot of times, being a writer can be a little lonely," said Daly. "There are very few outlets to share it along the way."
The Kenyon connection is something they all appreciate, too. "It's easy to begin relationships at Kenyon that go far beyond your time at Kenyon."