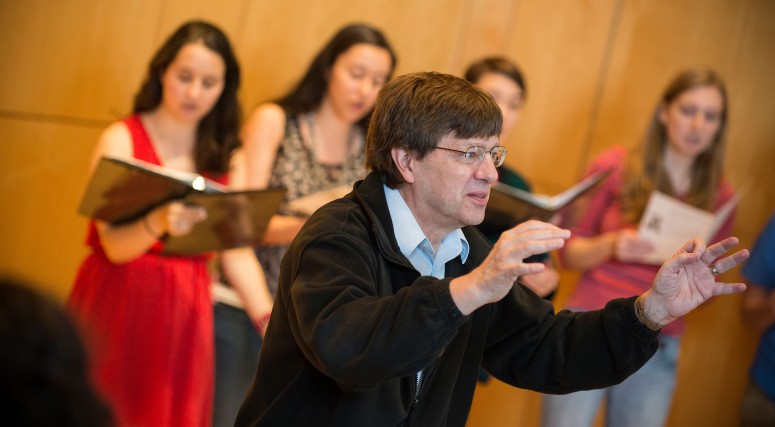 From Kenyon News - February 24, 2015
The Chamber Singers rehearsal brought Andrea Daly '06 to tears. It was the first time she had heard her composition performed by a live choir. "It sounds beautiful," she said. The piece premieres as part of the choir's annual spring tour that begins Saturday, Feb. 28, in North Huntingdon, Pennsylvania, and concludes in Rosse Hall March 21.
"I've always been impressed by her talent," said Professor of Music Ben Locke, who served as Daly's honors advisor when she was at Kenyon. Daly shared the music with Locke a couple years ago, but he waited until he had the right choir to perform the piece. "It is challenging," he said. "She writes in a way that is accessible but takes a certain skill level."
Daly, a Chamber Singers alumna, completed her doctorate in music composition at Stony Brook University in December. She works as a songwriter for Warner/Chappell Music and performs original songs at New York venues including Rockwood Music Hall and The Bitter End.
Her piece, "love is a place," is based on a poem by e. e. cummings, but it also has a Kenyon connection. "It was inspired by some of the music that I performed in Chamber Singers," Daly said.
Hannah Foerschler '15, co-president of Chamber Singers, believes that this year's choir has the talent to perform Daly's piece. "This choir is fantastic," said the music major from Lawrence, Kansas. "People seem to just know what is happening and are fantastic musicians, and everything is just clicking very well."
Locke said that Daly's contemporary composition fits well with the "esoteric, eclectic" mix of the program, which includes pieces composed in the 20th and 21st centuries but also features music that dates back to the Renaissance and Baroque eras.
Locke, who has worked with former students' compositions in the past, was grateful Daly could attend rehearsals to help fine-tune the choir's performance. "It's actually a very instructive thing," he said. "You feel more of a responsibility to do the work well when the composer is coming to hear it and to share her vision about what she hoped to accomplish. Our job as performers is to help realize that vision as accurately as we can."
The rehearsals reminded Daly of the impact Chamber Singers had on her career. "Now that music is my life's work, I realize that everything that I learned in that choir has come to bear on the things that I do for a living," she said.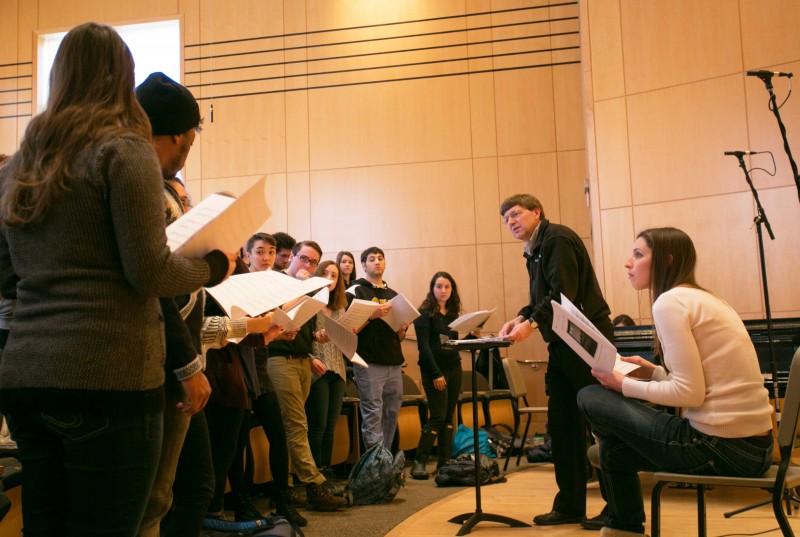 Daly, right, at a Chamber Singers rehearsal.