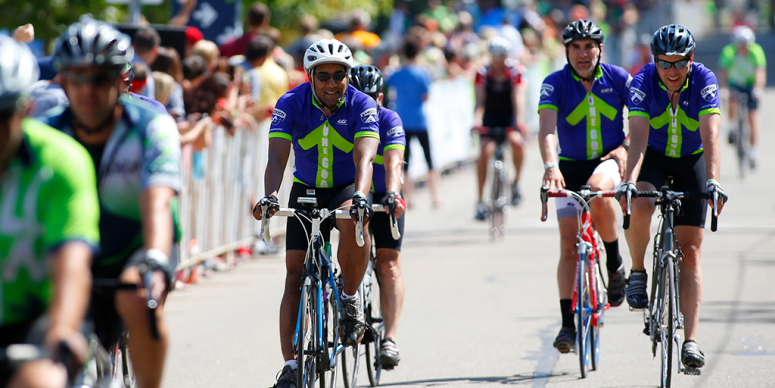 From Kenyon News - August 1, 2018
Thousands of bicycles zipped across a finish line in front of the Kenyon Athletic Center on Saturday, Aug. 4, when Kenyon served as the terminus for Pelotonia for the seventh straight year. The massive charity bike ride dedicated to raising funds for cancer research has raised over $15 million so far this year and, since the first event in 2009, has generated over $171 million for the Ohio State University's James Cancer Hospital and Solove Research Institute, commonly known as the James.
Since 2012, Kenyon student researchers have served on the front lines of cancer research thanks to a partnership with the research institute. This year, six chemistry, biochemistry and molecular biology majors spent their summers in labs on OSU's campus alongside faculty members and graduate and postdoctoral students. For the first time, they were joined by five mathematics and physics majors, who researched topics like statistical genetics and cancer survivorship. All 11 Kenyon students presented their findings to James staff at a research symposium in July.
For Pelotonia's 10th anniversary, more than 8,400 riders chose from one of 10 routes, ranging from 25 miles to a new 200-mile challenge. Those riding over 100 miles were able to spend Saturday night in Kenyon's residence halls after crossing the Gambier finish line before continuing their rides on Sunday.
Kenyon was represented by community members who are part of the Kenyon peloton, a team of 15 riders and additional volunteers. President Sean Decatur participated in his fifth Pelotonia by riding 55 miles, while several Kenyon faculty and staff members challenged themselves to ride 100 miles from downtown Columbus to Gambier.
Professor of Music Ted Buehrer '91 has participated in Pelotonia since 2015. "Cancer hit my family in 2014 as both my wife and sister battled with it, and I saw firsthand the expertise, skill and care they received at the James," Buehrer said. "I'm grateful that both remain cancer free today. Past cancer research helped them, and I ride so that the funds I raise can contribute toward research that will help someone else."
Kenyon alumni are also represented among other pelotons, including one called Midnight Train From Georgia. For the fourth year in a row, B. Noble Jones '97 and Adrienne (Amador) Oddi '09 trekked north to Ohio with a group of friends to participate in both days of riding. Christopher Eaton '89, Chris Toft '89 and Jeffrey Richards '88 also rode this year under the name Chasing Philander.
"Each year there is a moment during the 100-mile ride that brings tears to my eyes," said Maureen Tobin, a member of the Kenyon peloton who coordinates the OSU research partnership program as a senior associate director in Kenyon's Career Development Office. "It is often when cancer survivors, or those currently in treatment, hold up signs of encouragement for the riders. It makes you realize that we are simply riding a bike, while their task is much tougher."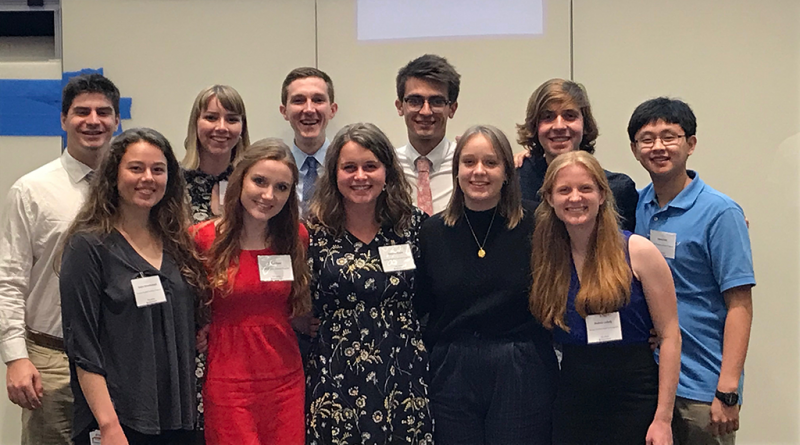 Pelotonia partnership 2018 student researchers Cameron Austin '20, Carter Brzezinski '20, Justin Clark '19, Julia Elrod '20, Daniel Kim '20, Andrea Ludwig '19, Danaye Nixon '19, Ariela Papp '20, Jordan Potter '19, Sasha Smerekanych '20 and Hannah Wendlandt '19.