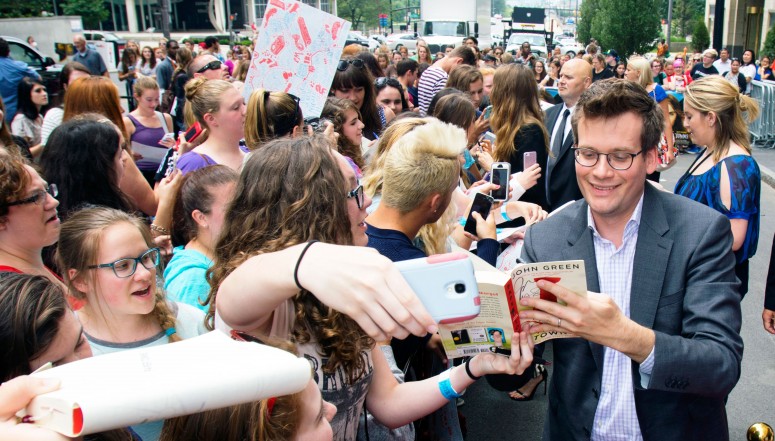 From Kenyon News - July 16, 2015
Best-selling author John Green '00 greeted more than 2,000 fans lined up outside the Palace Theatre in Columbus, Ohio, on July 15 as part of a promotional tour for the upcoming Paper Towns movie. The film, set for release July 24, is adapted from Green's 2008 hit novel.
Columbus was chosen by 20th Century Fox as one of three stops on the "Get Lost, Get Found" tour after Ohio received 80,000 fan votes, the most of any state, to be included on the route. Green was joined by cast members Cara Delevingne, Nat Wolff and Halston Sage on a red carpet to sign autographs and later on stage to introduce a 20-minute clip of the movie and answer audience questions.
Paper Towns is the second film to be adapted from one of Green's popular young-adult novels. The Fault in Our Stars movie, based on his number-one New York Times best-seller, earned $300 million worldwide upon its release last summer. A film adaptation of Green's first novel, Looking for Alaska, is forthcoming.
What advice did you receive from your professors at Kenyon that influenced your writing career?
The most important advice I received was from Professor [Perry] Lentz ['64], who said, "You do not have to go to law school after you graduate from Kenyon." I also think that I received extremely important advice from Professor [Donald] Rogan and Professor [Ellen] Mankoff, who both encouraged my writing but also encouraged me to take it much more seriously and to treat the academic world as an opportunity instead of seeing it as a hurdle that I had to jump over.
Were any elements of Paper Towns inspired by your experience at Kenyon?
Absolutely. There always are going to be things from your past that work their way into a book. For instance, the fish thing — Margo leaves fishes [in people's houses as pranks]. That was a thing that we did in college, leaving a fish in somebody's drawer and ruining their clothes in the New Apartments. It was like a prank war. It was among friends, but it escalated quickly.
In Paper Towns, the main characters go on an adventure. Was there a memorable adventure you went on while at Kenyon?
I went on an amazing road trip with my friends Ransom Riggs ['01], who went on to write Miss Peregrine's Home for Peculiar Children, and our friend Kathy Hickner ['99], who is an amazing, amazing, brilliant person, and we went to the Grand Canyon. And that road trip was poorly planned and very spontaneous and incredibly fun. It was just an amazing time.
Has seeing your books become adapted to films piqued your interest in writing an original screenplay of your own?
No, I don't want to write screenplays. In fact, if anything I probably want to write a book that's impossible to film. I mean, I love this process and I feel so grateful to be able to work with people I really care about, but it's intense, and it's overwhelming. I love books, so the next thing I do, I would want it to be a book.