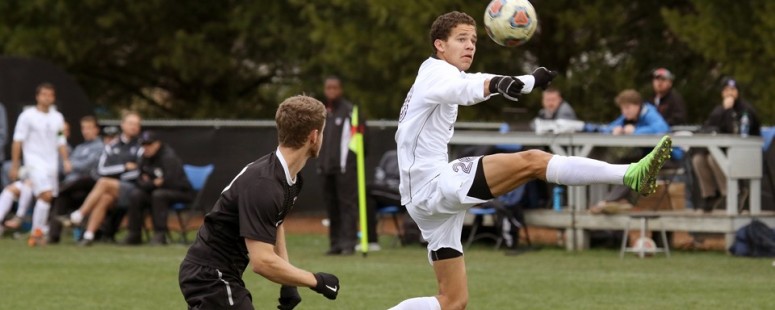 From Kenyon News - November 22, 2015
Competing in the quarterfinal round of the NCAA Division III Tournament for the first time since 1996, the 2015 Lords soccer team fortified its position as national contender and, with just one senior on the roster, continued to cement the groundwork for a promising future.
The heartbreaking Nov. 21 loss to Calvin College finalized the Lords' record at 19-2-1, a mark that tied the program single-season record for wins, originally set by the 1990 team.
The loss to Calvin occurred in the quarterfinal round of the NCAA Division III Tournament, marking the third straight season the Lords reached at least the third round of the national bracket. During that same three-year span, the Lords produced a combined 53-9-6 record.
The 2015 season featured many highlights, including the team's second-consecutive North Coast Athletic Conference (NCAC) tournament title, which was captured in a wild, last-second 3-2 win over Ohio Wesleyan University. Prior to that, the Lords earned the NCAC's regular-season title for the seventh time overall and for the first time since 2007, ending Ohio Wesleyan's seven-year reign.
At various time throughout the season, media and coaches across the country recognized the Lords' capability, lifting them to the No. 1 spot in national rankings disseminated by the National Soccer Coaches Association of America (NSCAA) and D3soccer.com.
After conference play was completed, the Lords hosted the first four rounds of the NCAA Tournament. They cracked a defensive-minded Westminster College team with a 1-0 victory in the first round, eliminated University of Chicago in a 4-2 penalty-kick shootout in the second round and then used a last-second shot to defeat Tufts University, the defending national champion, in the third round.
Goalkeeper Sam Clougher '17, Tony Amolo '17 and Jeremiah Barnes '16 were selected to the All-NCAC First Team. Midfielder Alberto Carmona '19 was named the NCAC Newcomer of the Year, and Chris Brown was voted NCAC Coach of the Year for the first time in his career.
With one year still ahead of them, Clougher already owns the Kenyon career record for shutouts (34) and Amolo ranks within the program's top-five, all-time career leaders for goals (43) and points (104).
Brown, who just completed his 11th season with the program, owns a sparkling 130-58-26 coaching record at Kenyon.
Read the Original Post