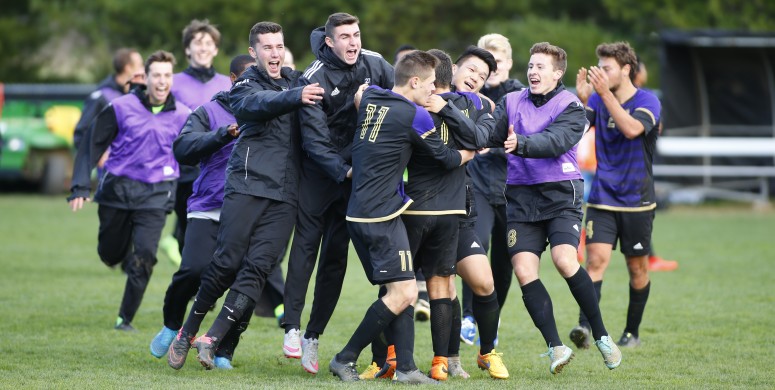 From Kenyon News - November 10, 2015
In the wildest match to date this season, the Kenyon College Lords (17-1-0) gave up a 2-0 lead in the final 61 seconds to archrival Ohio Wesleyan University before converting a penalty kick with 2.3 seconds left to win their second consecutive North Coast Athletic Conference Tournament Final on Nov. 7 at Mavec Field.

The victory was Kenyon's first against OWU at home since 1997.

Kenyon's final goal came off the foot of Jeremiah Barnes '16, who had converted another penalty kick two games earlier against Wabash to help the nationally ranked Lords win the NCAC regular season title. The drama was created late in the game as an OWU defender took down Jordan Glassman '17 in the box, resulting in a foul being called.

First-half action did not yield many shots as Kenyon had a pair on goal while OWU got just one shot off against Sam Clougher '17 in the 13th minute.

With the score tied at 0-0 heading into the second half, Kenyon found the first goal of the contest in the 57th minute. Tony Amolo '17 found himself around the top of the box and blasted a low-liner into the left corner of the goal. It was his 17th score of the season.

A minute later, Dalton Eudy '17 was along the left side and sent a pass to defender Henry Myers '18, who headed it home for a 2-0 Lords advantage.

The Lords' defense held the two-goal lead until the Battling Bishops found magic in the 89th minute.

Lonnie Barnes delivered the visitors' first goal as he received a pass from Brian Schaefer at the top of the box and fired between the legs of a Kenyon defender to the left post.

Twenty-nine seconds later, Nick Norman sent a pass to Kyle Baum who headed it to the left post and watched as Will Sharer finished sending the OWU bench into a frenzy.

With the Kenyon faithful in shock, their hearts soon turned to joy as Jeremiah Barnes '16 delivered on the penalty kick.

The victory secures an automatic bid to the Division III NCAA Tournament for the Lords. They face Westminster College at 11 a.m. Saturday, Nov. 14, at Kenyon's Mavec Field.
Read the Original Post