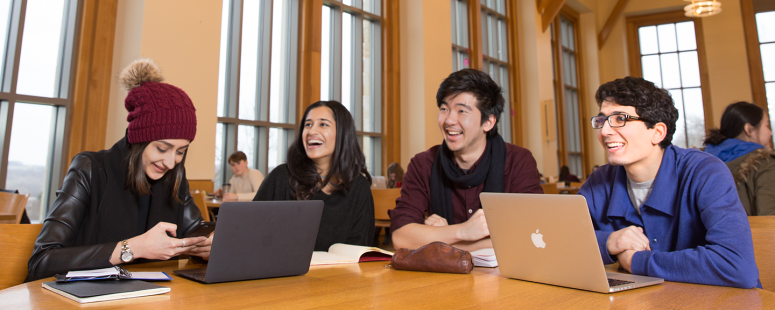 From Kenyon News - December 4, 2019
Maher Latif '17 has been remarkably efficient in pursuing his career goals of improving educational and economic outcomes around the world. As a first-year, he co-founded a nonprofit organization with Manjul Bhusal Sharma '16 to enrich learning opportunities for students in Nepal. As a senior, he worked with a small group of classmates on a new initiative aimed at easing the resettlement process for refugees. Soon after graduation, the economics and Chinese double major and mathematics minor from Upper Arlington, Ohio, boarded a plane for Taichung, Taiwan, where he taught English at a middle school for a year as a Fulbright fellow.
Latif will need to keep his passport handy, as he heads to Beijing next August as part of the fifth class of Schwarzman Scholars. The prestigious graduate fellowship, inspired by the Rhodes Scholarship, aims to prepare future global leaders to meet the geopolitical challenges of the 21st century. Scholars spend an academic year enrolled at Tsinghua University's Schwarzman College, where they pursue a master's degree in global affairs with an emphasis on China. Latif was one of just 145 scholars selected for the program from more than 4,700 applicants around the world.
"The Schwarzman program aims to engage future leaders with China as it emerges as an increasingly important player on the world stage," said Dean for Academic Advising and Support Thomas Hawks. "Maher is a natural fit. He's an extraordinary student, and he's also demonstrated great commitment to international work."
Latif's past experiences prepared him well for his Schwarzman Scholar work examining educational opportunities for under-resourced groups. His current position as a research analyst with the Federal Reserve has sharpened his quantitative skills, useful for assessing policy outcomes. His Fulbright fellowship, he notes, helped him better understand the nuances of how a classroom operates as well as how culture can inform teaching methods. The Schwarzman program's location in China will give him insight into a new culture, as well as access to policymakers engaged with global education and economic policy.
"China is a unique place in that there's a large emphasis from the policy side as well as from the entrepreneurial and technology side to find solutions for educational opportunities," he said. "Nowhere else is that happening at such a large scale and with such a quick rate of implementation."
Ultimately, Latif aims to bolster educational opportunities for refugee populations — an interest rooted in his own family's background. His mother immigrated to the United States from Tunisia as a student, and without the government sponsorship and economic support she received, Latif notes, his family's trajectory would have been radically different. He hopes that, as a Schwarzman Scholar, he will not only learn more about Chinese culture but also facilitate greater understanding of his own background as a Muslim American.
"The global refugee population will continue to grow as conflicts worsen and the climate changes," Latif said. "It's important not only from a moral aspect, but also from an economic aspect, that we provide educational resources for these populations and their youth so they can better participate in the countries in which they're living."
The Schwarzman Scholars program was founded by Stephen A. Schwarzman, the chairman, CEO and co-founder of Blackstone. Scholars are selected through a rigorous process that examines their academic ability, leadership potential and strength of character.
"Maher has the potential to become a transformative force in the area of education reform," said Professor of Mathematics Judy Holdener, who helped Latif apply to the program. "I believe he has the creative power to identify structures and mechanisms that will allow him to carry out his vision for a better world. He also has the energy and the intellect to make it happen. I look forward to seeing what he is able to accomplish."