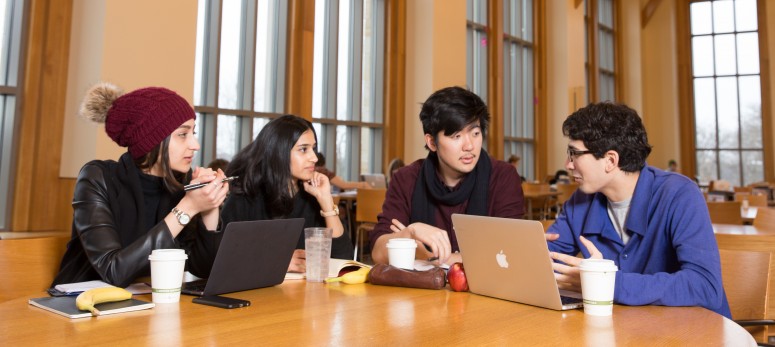 From Kenyon News - March 16, 2017
Amid the hubbub of dinnertime rush in Peirce Hall sits a group of students, calmly plotting a project that they hope will reimagine the way refugees are integrated into communities.
Maher Latif '17, Jae June Lee '17, Sewar Quran '17 and Sruthi Rao '16 hold daily dinner meetings to collaborate on the creation of what they call a "shared learning platform" — an app that will connect refugees to resources in their new communities and streamline communications among organizations supporting refugees.
Called DOXA after the Greek word for "opinion," the app combines ideas behind popular meetup apps, like Coffee Meets Bagel, and educational apps, such as Coursera, to create a centralized place where refugees can share their professional skills and learn other skills sought after by employers. Latif, Lee, Quran and Rao envision the app as a new kind of social network, where refugees can connect over common and complementary learning goals. Their goal is to ease the workload on overburdened refugee-support organizations.
"The agencies are working really hard to resettle as many people as possible and provide what they can," said Quran, an international studies and sociology double major from Madaba-Manja, Jordan. "But they are overwhelmed and running on really low budgets. Our approach was to find a way that alleviates some of the pressure that falls on these agencies and give them more time to be able to work with resettling families."
Their motivation to create DOXA increased when they learned about the Hult Prize, a start-up accelerator contest that encourages undergraduate and graduate students to tackle a specific global issue through social entrepreneurship. This year, contestants were tasked with finding a way to restore the rights and dignity of refugees around the world. After submitting a proposal, the Kenyon group was one of 300 teams chosen from a pool of nearly 50,000 worldwide to present their work at the regional semifinals in early March. They now are competing for an online "wild card" slot to be one of the final teams vying for the grand prize: $1 million in seed funding.
The group, which began conceptualizing DOXA early last fall, was inspired by experiences working on international studies and innovation projects at Kenyon. Lee, a philosophy major from Cape Town, South Africa, participated in a Davis Project for Peace in Calais, France, where he worked with refugees. Quran spent the summer in the innovations sector of Pfizer Inc., and her brain was churning with ways to put her new fundraising skills into practice. Rao, an economics and international studies major from Chicago, brought insight from her year abroad in Morocco, where she worked with rural women participating in argan cooperatives. The group grew with Latif, an economics and modern languages and literatures major from nearby Columbus, who had direct experience with social enterprise. He co-founded the nonprofit Reinstalling Hope, which enriches learning opportunities for students in Nepal.
DOXA also was influenced by the team's own experiences with immigration and resettlement; Lee is the son of South Korean immigrants to South Africa, Rao is the daughter of Indian immigrants to Chicago, and Latif's extended family immigrated to Columbus from Palestine. Quran has worked with refugees in the Zaatari refugee camp in her native Jordan.
"Giving refugees a space to be part of a political community where they can show themselves and be heard and say something is something we found really important," Lee said. "Having an opinion and being able to express your opinion in a political society is one of the more central pillars of a democratic society."
Rigorous schedules, including comprehensive exercises, have made working on DOXA challenging, but the team's daily dinner meetings have pushed the project forward. They video-chat weekly with Bomani McClendon, a Chicago-based computer science student working to develop the app, and they keep in touch with advisors to their team, including RefugeeOne, a resettlement agency in Chicago, and Houda El Joundi '16, who helps the team connect with refugee organizations in Morocco, where she lives.
"It gives us a bit of a rush," Quran said of their hectic schedules.
They plan to continue working on DOXA after leaving Kenyon, balancing the project with other post-graduate endeavors. Rao landed a job at JPMorgan Chase after graduating last year. Latif has accepted a position with the Federal Reserve Board in Washington D.C, and Quran and Lee are contemplating work with refugee agencies and public policy groups. The team notes that the global refugee crisis shows no sign of slowing — so neither will they.
"This is something that we're investing in, and each day, we see more need for it," Quran said.