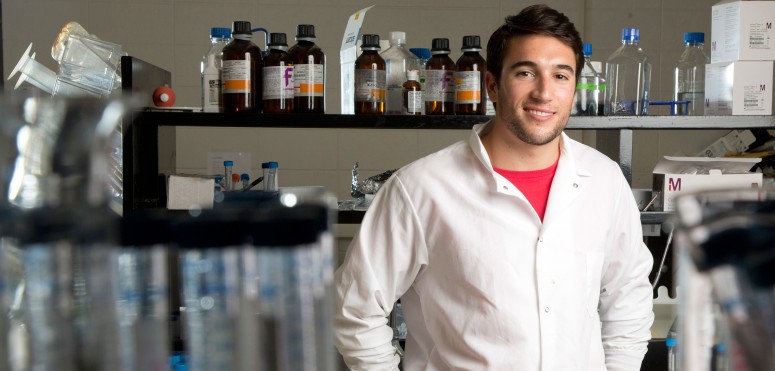 From Kenyon News - July 30, 2015
Jason Cinti '16 had a big job this summer: trying to figure out how a promising cancer-fighting drug fresh from Madagascar kills the harmful cells.
He was one of six students chosen to research cancer for 10 weeks at Ohio State University in nearby Columbus through a partnership with Pelotonia, an annual bike ride that raises money for the Ohio State University Comprehensive Cancer Center.
Kenyon was the finish line for thousands of cyclists, including Cinti, who rode 75 or 100 miles on Aug. 8, with the longer route starting in downtown Columbus. Some cyclists rode 25- or 50-mile routes, while others rode back to central Ohio on Aug. 9, making Gambier their stopping point after the first day.
Cinti, working alongside a professional in the College of Pharmacy lab, tested the drug on a broad selection of cells, including normal cells that line blood vessels, as well as pancreatic and colon cancer cells. He watched the different pathways in the cells for signs that the drug affected protein levels, which could indicate how the medicine works successfully.
The testing is the very early stage of getting the drug approved for clinical use, said Cinti, a molecular biology major who is considering medical school.
"We're really the first ones to study this drug. It's not out there at all. It's just been brought from Madagascar," he said.
Cinti rode in Pelotonia on the Kenyon team with his father and older brother, who came from his hometown of San Francisco. Long bike rides for charity are a tradition for the three. "We really like to ride together. It's a bonding experience for us," Cinti said.
The pharmacology lab, which Cinti biked to from the apartment he was provided near campus, will continue to study the new drug, eventually publishing a research paper for which he will receive a named credit.
Cinti was among 20 Kenyon students seeking the six research spots that come with $3,000 stipends. A team of faculty members and Maureen Tobin, Kenyon's graduate school and preprofessional advisor, selected students from their applications that included an essay about their interests in cancer research.
Another student researcher, Kenyatta Viel '17 of Chandler, Arizona, ultimately wants to help reduce health disparities by combining her studies at Kenyon: a molecular biology major, anthropology minor and African diaspora studies concentration.
This summer, she examined data for the populations sciences program of the Comprehensive Cancer Center, studying whether researchers can use existing data to avoid asking survey respondents sensitive questions about their education, jobs and incomes. Skipping those questions would help researchers get to the crux of a project trying to determine whether a population is more likely to get a certain kind of cancer, she said.
The student researchers heard from doctors with social-science backgrounds, including a medical student who was an urban studies major, Viel said. "I think that really helped me in particular," she said. "It's nice to know that I can incorporate anthropology and African diaspora into my field work."
Chief Business Officer Mark Kohlman, who was in charge of Kenyon's peloton or team for the bike ride, said the event provides a connection to Ohio State and the James Cancer Hospital that Kenyon never had before. The research partnership is in its fourth year. "We're talking about 24 students who have been able to go down there and spend a summer working in a real cancer lab. All of the students who have done it come back with a sense of what it's like to work in clinical labs," he said.
Tobin noted that students are exposed to different job possibilities in their interactions at Ohio State. "I have seen direct impact on their career paths," she said.
One student went to veterinary school after researching cancer in animals at Ohio State, and another received a research position with the National Institutes of Health and said interviewers noted the prestige of the Ohio State lab where she worked, Tobin said.
The students gave 10-minute presentations on stage at a research symposium capping the summer experience. President Sean Decatur and several faculty members joined the audience that included doctors and the CEO from the cancer hospital.
Here are the four other students from the summer research team:
Robin Belton '16, Millersville, Maryland
The mathematics major said she is interested in developing models and using statistics to help solve scientific problems, and she wanted to work at Ohio State to learn more about how to incorporate biology and medicine into math.
Spencer Byers '16, Shaker Heights, Ohio
Byers, a double major in molecular biology and neuroscience, said his career goal is to become a professor with his own lab. He asked for the job at Ohio State to work with professionals to expand his scientific mind and improve his ability to test his scientific questions.
Trevor Manz '17, Eau Claire, Wisconsin
Manz said an organic chemistry class he took at Kenyon made it clear that biochemistry is the major for him. He liked how the course material connected to the real world, and the work at Ohio State combines his passions for research and helping others in need. "The medical science opportunities within each laboratory are unmatched by other institutions," he wrote.
Eliana McCann Smith '17, Montclair, New Jersey
Inspired by her grandfather who lived through five aggressive cancers, McCann Smith wants to understand why patients with the same type of cancer have varying recovery rates. "I am very interested in asking the question of why different people have differing abilities in succeeding in the fight against cancer," the biochemistry major said in her application.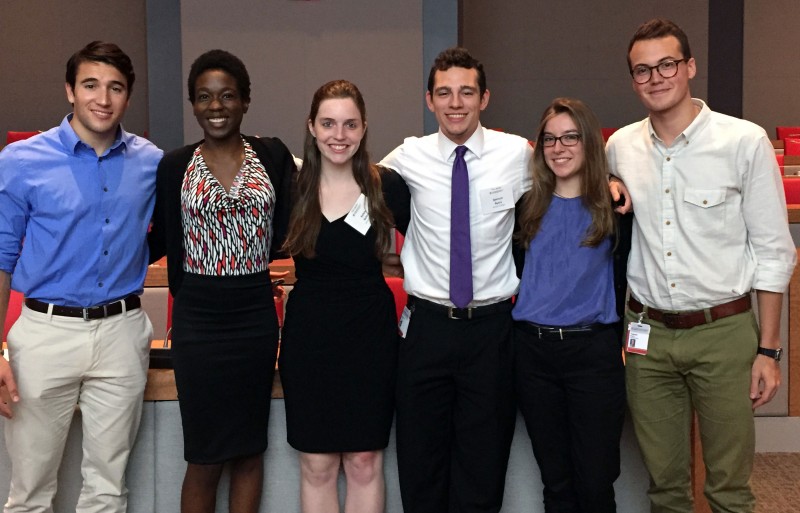 Pictured from left to right: Jason Cinti, Kenyatta Viel, Robin Belton, Spencer Byers, Eliana McCann Smith and Trevor Manz.