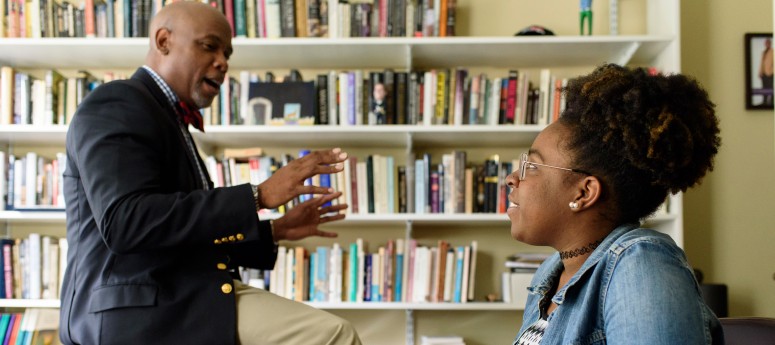 From Kenyon News - September 5, 2017
While standing before a classroom of students from under-resourced communities in Atlanta this summer, Jasmine Wilson '19 was reminded of her own middle school experience in Cleveland.
"My family didn't talk about college, and I didn't know anything about it," she said. "I was from a working class family. I never thought I'd go away to college; it felt so distant and far away."
Now a junior at Kenyon, where she's majoring in American studies and minoring in history, Wilson is helping a cohort of middle schoolers prepare for college through an internship with Breakthrough Collaborative. The organization, which aims to increase academic opportunities for highly motivated and underserved students, also prepares undergraduates like Wilson for careers in teaching.
"A lot of the students want to go to college, but they didn't know college was possible," Wilson said. By peppering her classroom instruction with talks about scholarships, financial aid, testing, admissions and other issues related to higher education, Wilson passed on to her students much of what she'd learned as a member of Kenyon's Camp 4 program. "I had a camp that changed my life, and I wanted to do the same for these kids," she said.
Wilson joined Camp 4 the summer after her sophomore year of high school. The academic enrichment program introduces high school students to the college experience, studying English, history, neuroscience and the visual arts while developing relationships with faculty like Professor of History Glenn McNair.
"These are among the best students in their schools," said McNair, who taught Wilson after she enrolled at Kenyon. "The students become personally invested in the program, and in each other. In three weeks, they build lasting bonds."
In addition to connecting with McNair, Wilson valued the relationship she formed with Tina Smith '03, a Camp 4 alumna who taught her creative writing. "We did autobiographies through poems and other kinds of narrative. It was a way to break the ice and to explore our own identity," Wilson said. "We began to see what makes us who we are. As a 15-year-old, you don't normally think about these things."
Now Wilson, who still hears from the middle school students she met through Breakthrough Collaborative, is thinking about pursuing a future in education. She advises students to challenge themselves as early as possible. "Put yourself in a place that's new to you," she said.