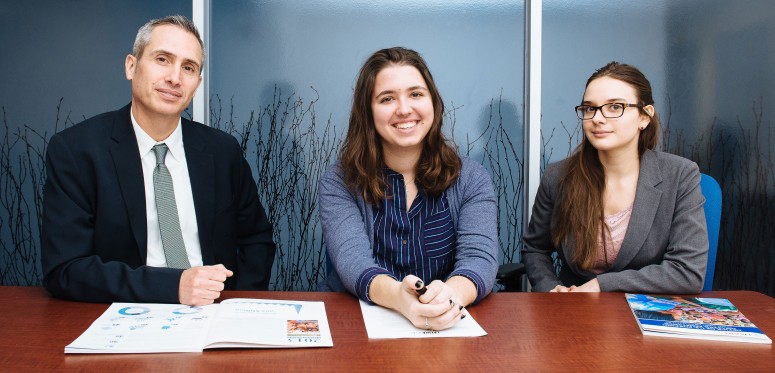 From Kenyon News - January 26, 2016
India Amos '17 shadowed the jobs of not one, but two alumni during the winter break. She spent a week at the U.S. Agency for International Development (USAID) Office of Foreign Disaster Assistance in Washington, D.C., with James Fleming '91 and Anna Bammerlin '14, who shadowed Fleming last year.
USAID is the lead federal agency to provide response to foreign disasters. Fleming guides disaster relief and disaster relief reduction in all areas of the world except sub-Saharan Africa. Bammerlin, a program assistant, set up Amos' informational interviews.
Amos sat in on field calls from Ukraine, met with a gender protection team from Latin America and learned about the Syrian humanitarian crisis and recent flooding in Paraguay.
"It was wonderful," said Amos, an anthropology and modern languages and literatures double major from Wheeling, West Virginia. "A large portion of my day was attending individual meetings. Instead of just following James around, I met the teams focused on the parts of the world I was interested in."
Amos was one of about 30 students who participate in the job shadow program each year. The Career Development Office (CDO) matches students to alumni, parents and friends willing to mentor students in their workplaces. In addition to Fleming, mentors included an emergency room physician, an attorney and an auctioneer at an auction house.
"Job shadowing provides similar benefits to that of an internship only on a smaller scale and with a shorter time commitment," said Lee Schott, assistant director of career development. "Students have the opportunity to further explore a career of interest by observing a professional at work, experiencing the office culture, learning about the industry from experts, making connections in the field and gaining an understanding of the skills and qualifications necessary to succeed in the field."
Fleming said the benefits aren't just for the students. "You have someone who is new and enthusiastic and asks lots of questions," he said. "You can relive the start of your career through their eyes."
While he does not participate in the job shadow program to find new employees, he credits the program with introducing him to Bammerlin, who now works for him. "It was nice for India to be able to shadow both of us," he added.
Amos' post-graduate interest primarily is in journalism — she was the editor of the Collegian Magazine last semester. She completed a job shadow with a publishing house in New York her sophomore year, followed by an internship with a literary agent in New York that summer. This job shadow allowed her to look at a completely different potential career path in another city. "I'm a big fan of casting my net wide," she said.
Amos encourages all students to look at the job shadow program. "It has opened so many opportunities for me. I would no way be as professionally prepared as I am right now without it."