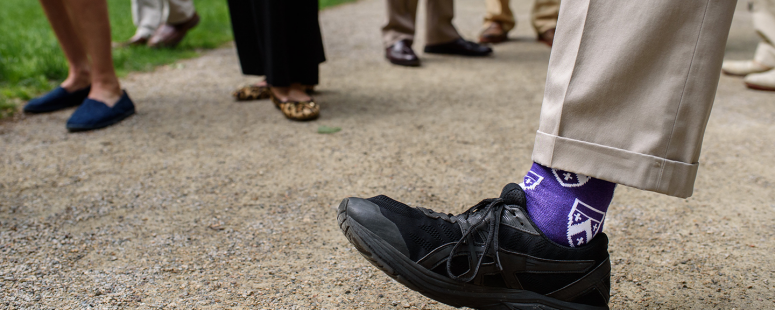 From Kenyon News - May 22, 2019
Less than a week after graduating over 400 members of the Class of 2019 at the College's 191st Commencement, Kenyon welcomed alumni home to their alma mater for Reunion Weekend, May 24-26.
Members of classes ending in 4 and 9 — from 1969 to 2014 — and their families climbed the Hill for a weekend of reminiscences, food and fun (older alumni were able to gather for a Post-50th Reunion in April). In addition, alumni from all class years of Kenyon's Chamber Singers ensemble and the co-ed jazz a cappella group Take Five reunited to present special Reunion Weekend concerts.
All together, over 1,200 guests arrived from at least 46 states, according to the Office of Alumni and Parent Engagement, which hosts Reunion.
"Reunion Weekend is Kenyon's family reunion, and this year's event will certainly be grand in scale," said Scott Baker '94, Associate Vice President for Alumni and Parent Engagement. "The Chamber Singers and Take Five have a combined reunion dinner topping 100 people. The schedule is jam packed, and we're thrilled to be welcoming five decades of alumni back to campus. On a personal note," Baker added, "this reunion is particularly meaningful to me as it's my father's 50th, my sister's 20th and my 25th."
Notable activities for the weekend included:
Alumni college seminars led by Professor Emeritus of

Religious Studies

Royal Rhodes, College Historian Tom Stamp '73 and Director of

Green Initiatives

Dave Heithaus '99

A town meeting with President Sean Decatur and members of the Senior Staff

A Celebration of Classes: Gregg Cup Awards Luncheon, recognizing alumni leaders

A preview of "Women at Kenyon: Celebrating 50 Years of Coeducation" and the 50th anniversary of the Black Student Union

Music from the Jillettes, fronted by Bill Whitaker '79, and a family concert by Grammy-nominated children's performer Zak Morgan '94

Wild Wonders from the Columbus Zoo, featuring a variety of adorable animals.
Alumni are encouraged to share their favorite Reunion moments on Twitter and Instagram using #KenyonReunion.