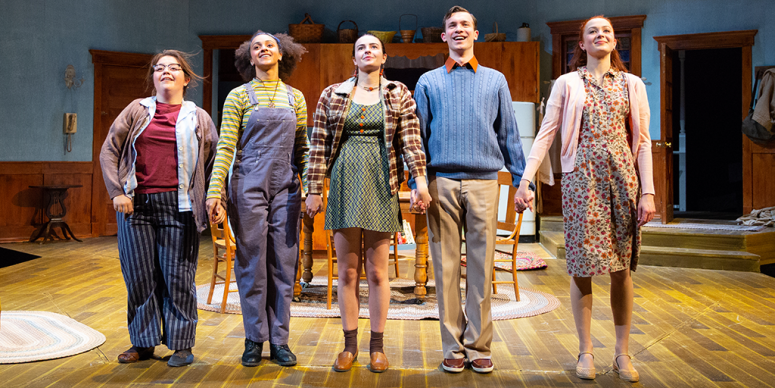 From Kenyon News - January 30, 2020
Kenyon students will present Sarah Treem's "When We Were Young and Unafraid" on Thursday, Jan. 30, Friday, Jan. 31, and Saturday, Feb. 1, at 8 p.m. in the Bolton Theater.
Set in 1972, the play tells the story of Agnes, a single mother of a teenage daughter, who owns and operates a boarding house on an island in the Pacific Northwest. The house also functions as an underground refuge for victims of domestic violence, whose experiences remind audience members of an era when women especially struggled to be heard.
"At the core of this play are women who each earnestly try, in their own ways, to support one another," said Theresa Carr '23 of Coral Springs, Florida, who served as the production's stage manager. "Their opposing approaches and ideas of what a woman should be create this play's major conflict, though each are well-intentioned. From what I've observed of the rehearsal process, honoring each of those characters and the uncomfortable choices they make has been a challenge, but it seems to me that's also why this play is relevant today."
The play is directed by Jonathan Tazewell '84, the Thomas S. Turgeon Professor of Drama, and contributes to the College's yearlong celebration of the 50th anniversary of women at Kenyon.
"This was a logical show for the yearlong celebration. It is set in the midst of a time when a number of private institutions — Princeton, Harvard, Kenyon — decided to go co-ed," Tazewell said. "I also was struck by how poignant the play is in addressing issues of sexual assault and violence, and how relevant that is to our current national conversation. It addresses social and political circumstances that are contemporary but also very much of that era."
Tickets are $7.50 for general admission, and for groups of 10 or more, $5. Tickets are $4 for seniors, non-Kenyon students and children under 12, and $2 for Kenyon students. To reserve tickets, contact the box office at 740-427-5546, open 1–5 p.m. during the week of the show and one hour before each performance.