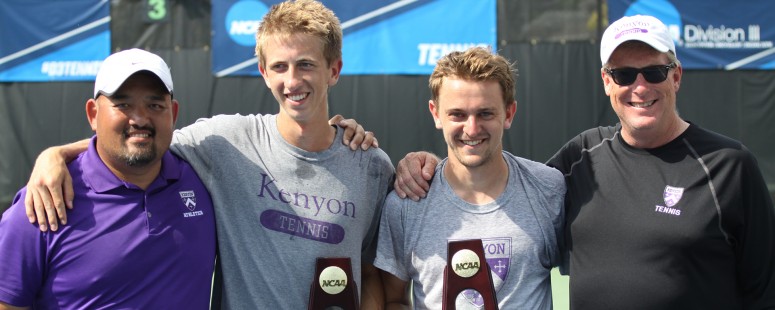 From Kenyon News - May 29, 2016
Sam Geier '16 and Tristan Kaye '17 completed their remarkable run in the NCAA Division III Men's Tennis Doubles Championship with a pair of wins in the semifinals and final Saturday, May 28, at Kalamazoo College's Stowe Stadium to capture the program's first-ever NCAA Doubles Championship national title. Kenyon's duo won over Stevens Institute of Technology 7-5, 6-3, and then defeated a strong Middlebury College side 7-6 (7-3), 6-1.

Against Stevens, Geier and Kaye raced out to a 5-2 lead in the opening set. But Ducks duo Matthew Heinrich and Benjamin Foran responded, winning three straight games. That tied the first set at 5-5. The Lords didn't panic, though, and got the clinching point as Kaye delivered a forehand down the line.

In set two, Kenyon had a little easier time getting by the Ducks. A second-serve ace from Kaye pushed the lead to 5-2, and the Lords later prevailed 6-3.

A little over an hour later, the Lords returned from break to play the Panthers from Middlebury who had previously beaten Case Western Reserve in the semifinals.

The first set was one to remember. Both teams traded games all the way up to 6-6. At that point, tiebreaker rules came into effect. Geier and Kaye won rather handily during the session, 7-3, as a return from Palmer Campbell went wide.

Needing just one more set to win, the Lords closed the door. There was a 1-1 tie score early on, but Geier and Kaye reeled off the next five games. Going into the match, head coach Scott Thielke made it an emphasis to serve well, and both Geier and Kaye did that as they notched several aces and put constant pressure on Campbell and Hamid Derbani.

It was the final collegiate match for Geier, whose illustrious career came to an end in prime fashion.
Read the Original Post