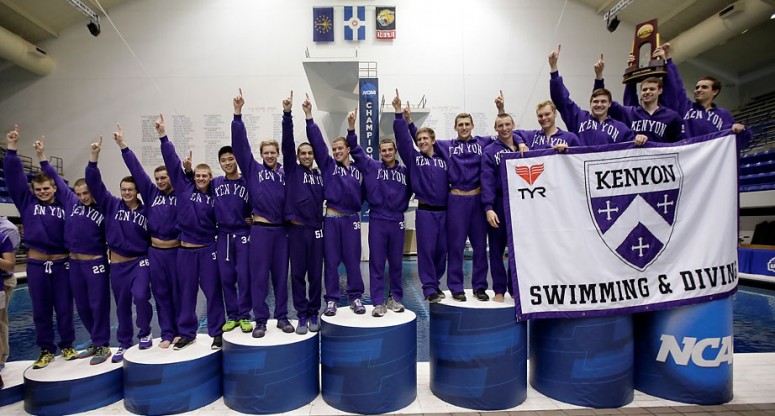 From Kenyon News - March 24, 2014
After four days of intense competition at the NCAA Division III Swimming and Diving Championships in Indianapolis, Indiana, the Kenyon Lords and Ladies walked away with respective first- and second-place finishes. The national title for the Lords was their second in a row and their NCAA-record 33rd in the past 35 seasons. The runner-up spot for the Ladies was also their second in a row, coming up just shy of adding to the program's stockpile of 23 national titles.
The Lords' effort was workmanlike. They spent the majority of the Championship chasing Denison University, which used 97 unanswered points in diving competitions to keep a fair distance. Kenyon, however, kept chipping away at its deficit until finally, in the 200-yard breaststroke, the Championship's next-to-last event, the Lords broke through with a trio of top-ten finishes and surpassed Denison in the team standings. The title was still in question during the meet's final event, but the Lords' sixth-place finish in the 400-yard freestyle relay was enough to secure the team title. The final standings showed Kenyon with 480 points, Denison with 472 points, and Emory University a distant third with 246.5 points.
Throughout the meet, the Lords had a pair of individual-event title winners, 23 top-eight finishes, and 38 All-America performances. The titles came from junior Austin Caldwell, who took the 200-yard freestyle (1:37.16) for the second straight season, and from classmate Harrison Curley, who won the 200-yard backstroke (1:45.11).
The Ladies were also involved in a chase, but theirs included more than one team. A slow start in the first day of competition placed Kenyon fourth in the standings. As each day went by, the Ladies improved that standing until they reached second place and faced the insurmountable task of toppling Emory, which scored 595.5 points and claimed its fifth-straight title. Kenyon scored 456.5 points and third-place Johns Hopkins University ended up with 387 points.
The Ladies were paced by title-winning achievements from junior Celia Oberholzer and sophomore Maria Zarka. Oberholzer was a repeat winner in the 100-yard backstroke (54.33) and Zarka defended her title on the 3-meter diving board (494.15). At the end of the meet, Zarka was voted the NCAA Women's Diver of the Year and Andy Scott, in his fourth year at Kenyon, was named NCAA Women's Diving Coach of the Year.
In addition to the two event titles, the Kenyon women cranked out 22 top-eight finishes and 33 All-America swims.
Head coach Jess Book '01, who steered both squads through the championship meet wrote to his team afterward. "Success rarely comes easily, nor does it come quickly. It is the byproduct of patience, resilience, faith, and passion. I am proud of the patience, resilience, faith, and passion that this team displayed this week and this year."
"Building a championship team is an incredible journey," Book added. "It takes time, a great deal of work, and a whole lot of love. This team has done all of that."