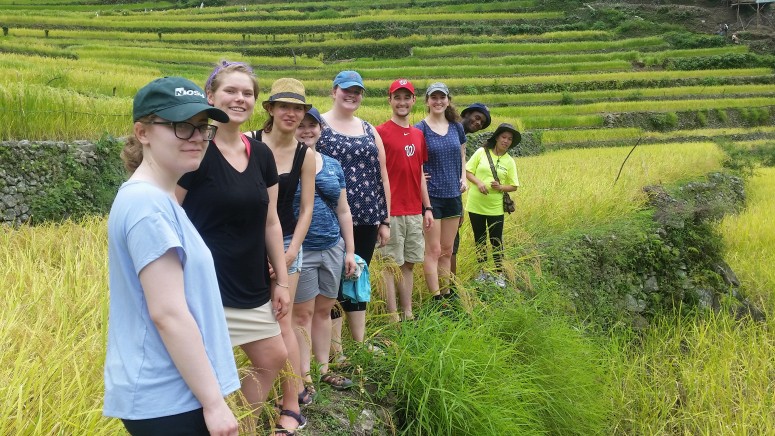 From Kenyon News - August 15, 2016
While researching the impact of tourism on the Igorot people of the northern Philippines this summer, Jenna Rochelle '18 questioned her own role in the popular tourist destination.
"At some points during my research, I was critical of tourists and the tourism industry for their blind exploitation of indigenous culture, all in the pursuit of economic and social gain," said Rochelle, an international studies major from Colorado Springs, Colorado. "When those thoughts crossed my mind, I also had to think, 'Was I really any better than these tourists?'"
Rochelle was one of eight students who spent 30 days in the Philippines under the guidance of Associate Professor of Anthropology Sam Pack, who credits the region's popularity to its culturally rich heritage and affordability.
"But what are the environmental and societal costs? The younger generations of the Igorot people in the Batad rice terraces of the northern Philippines are caught between their traditional society and the modern demands of tourism," Pack said.
Shaun Stewart '17, an anthropology major from Canoga Park, California, focused his research on how tourism influences younger Igorots and the ways in which they merge traditional cultural practices with modern life.
"The youth groups and I melded fairly quickly," Stewart said. "I spent many afternoons watching them practice for upcoming performances and hanging out in their meeting room."
Although Pack's group spent a few days in the Batad rice terraces observing the traditional culture, the majority of their time was spent in the bustling city of Baguio, which is nicknamed the "Summer Capital of the Philippines." They also coordinated with Analyn "Ikin" Salvador-Amores, a professor of anthropology at the University of Philippines in Baguio.
Bradley Raynor '16 worked with Pack in the Philippines last summer, doing research that set up this summer's trip. A double major in international studies and film, his research focus was on media and development. Raynor filmed many of the interviews conducted by the other students.
"The most fun part for me was listening to the different interviewees talking about all of these topics, from religion or indigenous rights to sustainable tourism practices, and starting to see the pieces of different students' research projects coming together," Raynor said.
Pack hopes to make a film about cultural identity and indigenous sovereignty from the footage shot by Raynor and film major Charlotte Gruman '19 of Traverse City, Michigan.
Last fall, at the New York Conference on Asian Studies, Raynor and Pack presented a co-authored paper, "Visual Encounters: Examining Igorot (Self-) Representations in Photography and Film." That research helped Pack win a grant for this year's trip.
The students also were funded by the ASIANetwork Freeman Student-Faculty Fellows program and Kenyon's Summer Scholars program. Hannah Echt '17, Alexandra Hansen '17, Lauren Michael '17 and Rochelle will present papers about their research at this year's conference.
Michael, a philosophy major from Pittsburgh, appreciated the opportunity to interview the Igorot people and to practice cultural flexibility. "The rare opportunity to work with a Kenyon professor on the other side of the world is a testament to the way in which Kenyon's liberal arts education is truly universal," she said.