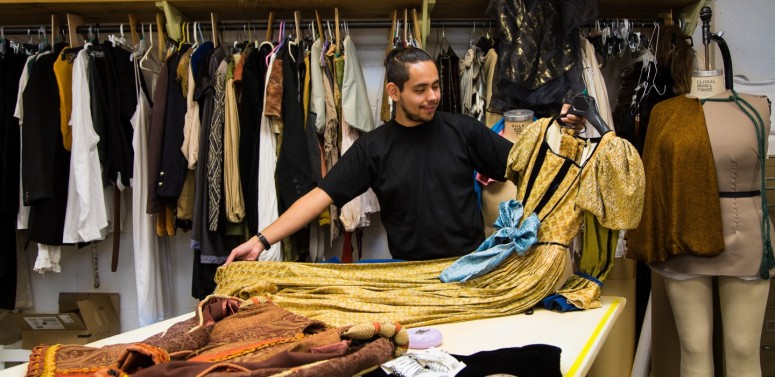 From Kenyon News - October 3, 2017
While working on the hottest show on Broadway, Lucas O'Brien '18 completed the following tasks:
Scoured shops around New York City's Garment District for buttons and fabric swatches suited for 18

th

-century dresses and military uniforms. Tried not to bump into people while carrying huge rolls of velvet on subways and sidewalks to costume-creation shops.

Checked that the material had enough stretch for strenuous dance numbers.

Walked actors new to the show to multiple fittings, often passing through Times Square.

Side perk: Got to know them beyond their Broadway fame while dodging tourists and street performers.

Watched rehearsals with actors in new costumes to take notes on whether the top designer's vision is fulfilled.

Is the hem the right height? Does the bodice look tight?
For an aspiring costume designer, O'Brien's four months interning for "Hamilton: An American Musical" were like a dream.
He thought, "I'm going to get to touch the costumes that are going to be on stage. That's a pretty cool and very fun aspect — to be that one degree of separation from the actual thing."
The drama major from Lexington, Massachusetts, secured the opportunity to work under Tony-winning "Hamilton" designer Paul Tazewell through a connection made by Professor of Drama Jonathan Tazewell '84. The two are brothers.
He is one of many Kenyon students who worked, traveled, volunteered or interned during their summer breaks, doing everything from caring for big cats at a Florida rescue center to assisting in Senator Kirsten Gillibrand's Washington, D.C. office.
O'Brien plans to return to New York City after graduation to join its sprawling yet close-knit community of people who make beautiful clothes. He wants to go to graduate school after some work experience and is open to varied career routes: costume design, the fashion industry or even outfits for drag, a favorite personal hobby. And he hasn't ruled out acting. He loves to make people laugh on stage.
At Kenyon, O'Brien has worked on numerous theater productions, studied for a semester in London with an acting academy and interned at the Adam Lippes fashion label. He also assisted Tazewell on two other musicals he's designing.
With "Hamilton," he said watching from the audience at the end of summer was an amazing experience, as he witnessed the costumes come together under the vision of Tazewell and show creator Lin-Manuel Miranda. (He came within a few feet of meeting Miranda, but ended up separated by a closed door.)
For now, he's deep into his senior thesis project as a costume designer for Kenyon's upcoming production of "Rosencrantz and Guildenstern Are Dead," running Oct. 12-14 in the Bolton Theater.
It's the same stage where he watched "Arabian Nights" during a campus tour and was persuaded to come to Kenyon. "When I saw that, the moment it was over, I was like, 'This is the place I need to be. This type of process and this theater is where I need to learn.'"