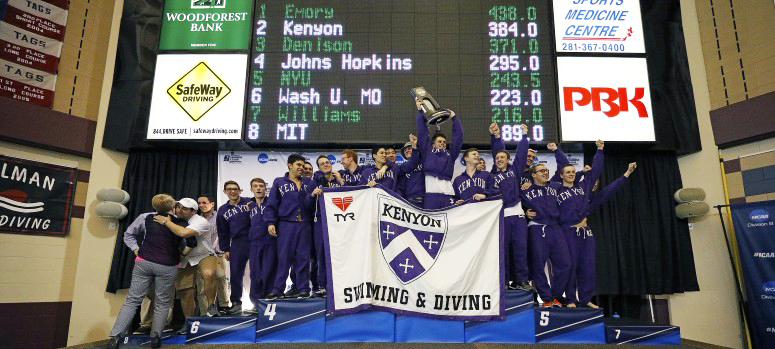 From Kenyon News - March 19, 2017
Arthur Conover '17 of Oakland, Maine, started and finished as a national title-winner at the 2017 NCAA Division III Swimming & Diving Championship. The Kenyon senior won the 1,650-yard freestyle Saturday night and helped the Lords close out the four-day meet with 384 points and a second-place team finish. The Ladies wrapped up the championship with 381 points for a third-place finish. The Lords' runner-up showing marked the 38th consecutive season Kenyon occupied one of the top two spots at the national meet. For the Ladies, this is the 37th straight year that they have finished in the top five.
Lords Lock Up Second
Conover, who opened the championship with a victory in the 500-yard freestyle, took the 1,650-yard freestyle crown Saturday with a time of 14:59.56. It was his third career national title and his 15th career All-America swim. During the course of his four seasons at Kenyon, the distance specialist finished no worse than third place in the 500 and 1,650.
David Perez '18 and Connor Rumpit '20 weren't too far behind Conover in the session-opening swim. Perez claimed seventh place in 15:32.41 and Rumpit clocked in at 15:35.06 for eighth place. Those results pulled Kenyon within 22.5 points of Emory, but that would be as close as the Lords would get.
Kenyon had no finalists in the 100-yard freestyle, which made way for Emory to bump its lead out to 39.5 points. The Lords' best finish in the event came from Weston Carpenter '19, whose preliminary swim in which he posted a 45.31 took 26th place. Jesse Novak of Rowan University won the event in 43.29.
The Emory lead over Kenyon increased to nearly 50 points in the next race, which was the 200-yard backstroke. The Eagles got a fifth and 14th-place finish, while Kenyon countered with an 11th-place finish from Mick Bartholomew '20, who touched in 1:47.80. Ben Lin of Williams won the race with a time of 1:44.00.
Next up was the 200-yard breaststroke and no one was going to catch Emory's Andrew Wilson, who won the race in 1:50.80, topping his previous NCAA record of 1:51.15. Ian Reardon '17, who won the event two seasons ago and was runner-up last season, placed second again in a time of 1:58.04. Classmate Trevor Manz '17 took sixth place in 1:59.25 and Kieran Allsop '20 claimed 12th place in 2:01.96. That was the final Kenyon swim for Reardon, a 12-time All-American, and Manz, a 23-time All-American.
After the three-meter diving competition came to an end, the 400-yard freestyle relay was the last event left. Emory closed things out on top, winning the race in 2:56.68. Kenyon's quartet of Austin Pu '17, Carpenter, Ambert Sawaya '17 and Robert Williams '19 clocked in at 3:02.01 to take eighth place and cap off another successful Kenyon season.
Emory University, a four-time national runner-up, won the men's team title for the first time in its history. The Eagles earned gold after piling up a total of 438 points during the four-day meet at Conroe ISD Natatorium. Third place went to Denison University, which logged 371 points. John Hopkins University took fourth place with 295 points and New York University was fifth, scoring 243.5 points.
Ladies Finish Third
For the Ladies, there were a trio of top-three performances on Saturday evening that started with Marysol Arce '19.
In the 1,650 freestyle, she touched the wall with a season-best mark of 16:39.11 which was good for second place. Freshman Gail Anderson '20 also took part in the event and added her third All-America finish of the meet as she claimed seventh in 16:58.68.
Kenyon's next-best finish came from breaststroke specialist Julia Wilson '19. In the 200, Wilson posted a time of 2:15.30 which slotted her in third.
The Ladies' final third-place showing came in the final event of the night, the 400 freestyle relay. Hannah Orbach-Mandel '19, Sophia Kuvan '18, Delaney Ambrosen '20 and Abby Wilson '19 completed the race in 3:23.37. That was a season-best time for the team.
Additionally, Orbach-Mandel was the consolation winner (9th) during the 100 freestyle event (50.67) while Abby Wilson '19 followed her with a season-best mark of 50.75.
Ambrosen rounded out the Ladies' best efforts in the 200 backstroke. The sophomore touched the wall in 1:59.57 which slotted her in fifth. That finish also improved on her performance from last year when she finished in 2:03.07 (16th). Furthermore, fellow second-year swimmer Caitlin Foley '19 secured her first career All-America award with a 13th-place spot.
Emory University won the women's title with 645.5 points with Williams College following in second with 445.