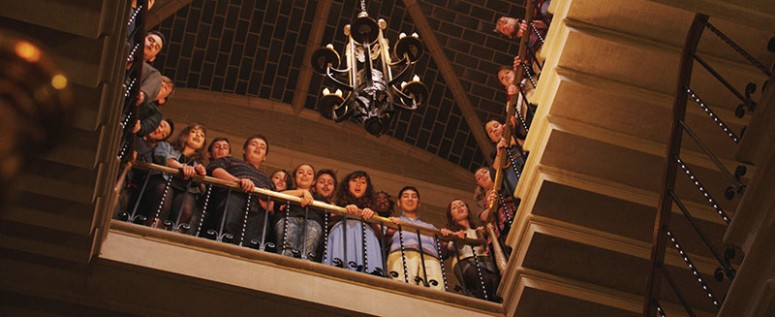 From Kenyon News - March 24, 2014
When the Chamber Singers took the stage in Rosse Hall Auditorium on Saturday, they wrapped up their annual spring tour that took the a capella choir from Gambier to Boulder, Colorado. But this year represents more than just the conclusion of a successful tour: It also marks the 30th anniversary of Professor of Music Ben Locke's career at Kenyon.
To recognize "Doc Locke," as he's known around campus, Kenyon invited all Chamber Singers alumni to return for a reception and dinner, as well as the spring concert – including a group encore of "Kokosing Farewell."
More than 50 former students from all generations of his tenure returned for this special reunion, in essence doubling the size of the 52-member choir. "The depth of his influence is a real testament to his career," said Scott Baker '94, director of alumni and parent programs.
Jill Bolinger '88 of Cortland, Ohio, was one of Locke's first students. "Ben's freshman year was my freshman year," she said.
Bolinger, who is a senior human resources consultant with WellPoint Inc., credits Locke and his wife, Kay, with convincing her not to leave Kenyon to be closer to a boyfriend after her first year. The bond she formed with her professor and his wife lasted. She babysat the Locke's two children while still at the College, and Locke even gave her away at her wedding. "I know it sounds corny, but Chamber Singers was like family. The relationship with Ben and Kay was one of my anchors."
Matt Levine '97, an associate professor of history at Mississippi State University, said this was his first time returning to Kenyon for a home concert, though he has seen the Chamber Singers on the road and has been back often for other reunions. The relationships he formed in Chamber Singers, he said, are part of why he returns to the Hill as often as he does. "It became a part of what made Kenyon a community for me."
It was the opportunity to honor Locke that drove him to return for the event. "Ben has been doing this long enough, he deserves every bit of recognition he can get," said Levine, who majored in music.
Locke said he always enjoys seeing alumni in different cities during the spring tour. "It's almost like family reunions whenever we get to see them. It compresses the years," he said. "In a way it just puts all these generations together, and it's almost impossible for me in my own mind that they don't even know each other.
"But they do know each other because of the music and the traditions."
He is moved by the volume of people who choose to return to campus to honor his contribution to the music program and to Kenyon as a whole. "I have to say it's a very satisfying thing to have alumni come to our tour concerts. But to have this many come in one fell swoop is quite an event."