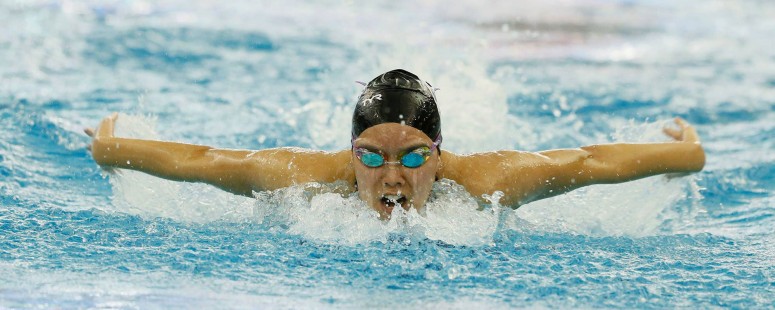 From Kenyon News - March 19, 2016
Marysol Arce '19 claimed two national titles for the 1,650-yard freestyle and 500-yard freestyle events.
Both the Kenyon College Lords and Ladies claimed runner-up spots at the 2016 NCAA Division III Swimming and Diving Championships held at the Greensboro Aquatic Center.
For the Lords, having to surrender their three-year grip on the national championship trophy to rival Denison University was a step they didn't want to take. The Ladies, however, took two huge steps forward, battling six-time defending champion Emory University toe-to-toe and placing two spots better than Kenyon's 2015 fourth-place team.
The Ladies, who had one of the youngest teams in the field, won four event titles and scored 476 team points. They held leads on the first and second day of competition, but Emory took over for good on the third day and ended up claiming its seventh-straight team title with 560 points.
Kenyon's title-winning performances came from Marysol Arce '19 and from seniors Hannah Lobb '16 and Maria Zarka '16. Arce burst onto the national stage with victories in the 500-yard and 1,650-yard freestyles. She completed those events in respective Kenyon record times of 4:48.52 and 16:33.29.
Lobb sprinted to first place in the 100-yard freestyle, setting another Kenyon record time in 49.90. Prior to that swim, which came on the final day of the four-day meet, Zarka nailed down her second-straight title in the one-meter diving competition. She finished with a score of 484.50, giving her a career total of four NCAA diving titles.
For the Lords, Ian Reardon '17 was the lone event winner. On the final day of the meet, he bolted to victory in the 200-yard breaststroke. His time of 1:57.78 was another Kenyon record. That result gave Reardon a trio of top-three finishes at the meet.
Arthur Conover '17 also had three top-three finishes, including second-place showings in the 500-yard freestyle and 1,650-yard freestyle.
The Lords had one relay title to match Reardon's individual title. The team of juniors Oscar Anderson '17 and Trevor Manz '17 and seniors Christian Josephson '16 and Joey Duronio '16 posted a time of 3:15.20 to take the 400-yard medley relay crown.
The Lords' runner-up spot in the final team standings marked the 38th consecutive year that they finished the national championship meet in first or second place.
Complete photo coverage of the championships is available here.