From Kenyon News - April 29, 2019
Through her artwork, Rosa Rumora '19 aims to "explore the act of making and its ability to expose systems of energy that exist between two- and three-dimensional space." Her large-scale sculptural installation "Displacement" consists of three parts, each approximately 10 feet by 6 feet, made of hundreds of repetitively linked short pieces of wire that create "an infinity of small, irregular, cellular forms."
Rumora, from Baltimore, Ohio, is one of 20 studio art majors to display their work in the Gund Gallery's annual senior student exhibition, on view through May 18. She was also honored as the Grand Award winner at the Association of Independent Colleges and Universities of Ohio Award for Excellence in the Visual Arts competition. A second Kenyon studio art major, Oscar Dow '19, was also among the six finalists.
For the following photo essay, photographer Ella Musher-Eizenman '22, from Ottawa Hills, Ohio, shadowed Rumora as she finished "Displacement," installed it in the gallery and debuted her work at an opening reception on the evening of April 22.
---
APRIL 16: Rumora'S STUDIO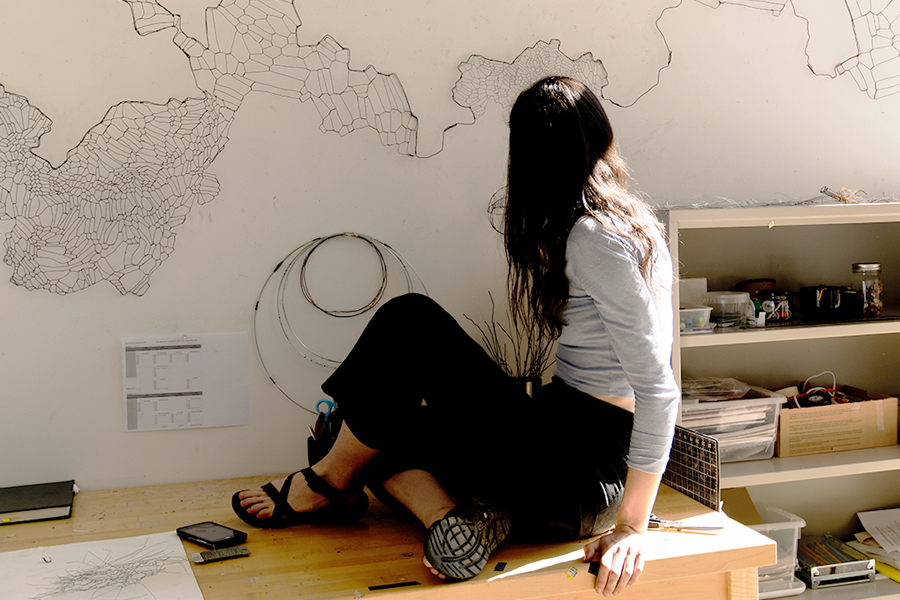 Art major Rosa Rumora '19 puts the finishing touches on one of the three parts of her sculptural installation "Displacement."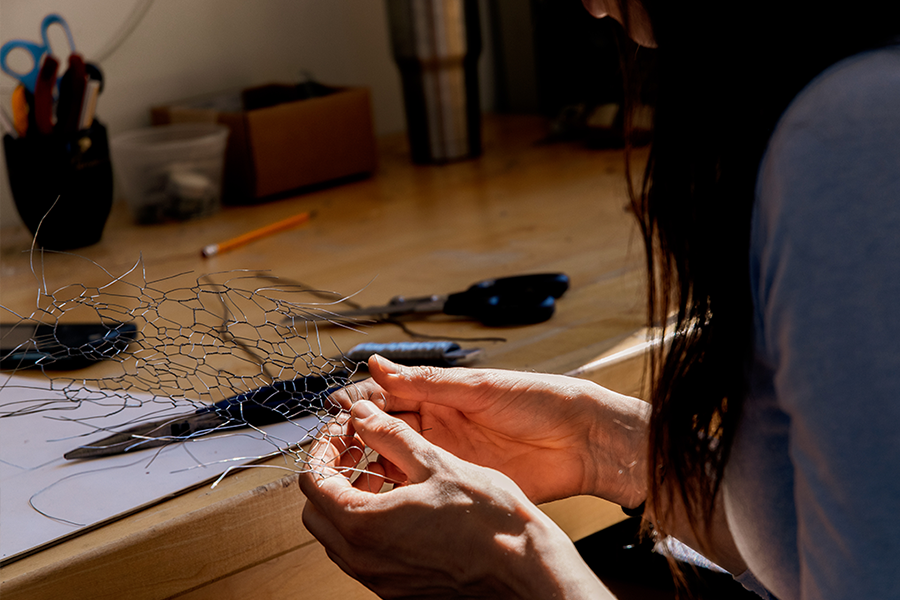 Rumora twists wire for a new sculptural artwork.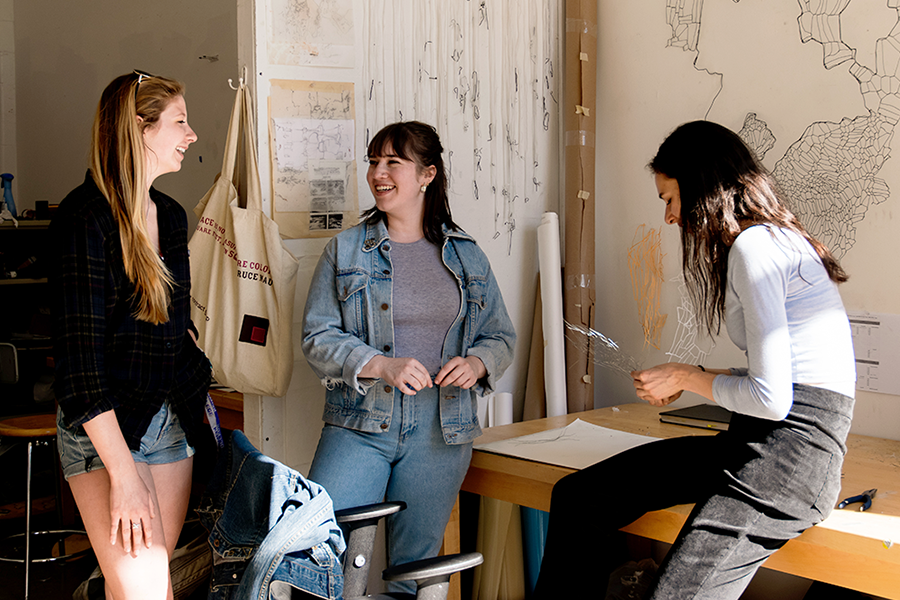 Jackie Dicks '19, Sarah Gaglione '19 and Rumora hang out in their shared Horvitz Hall studio and discuss the upcoming senior art show at the Gund Gallery.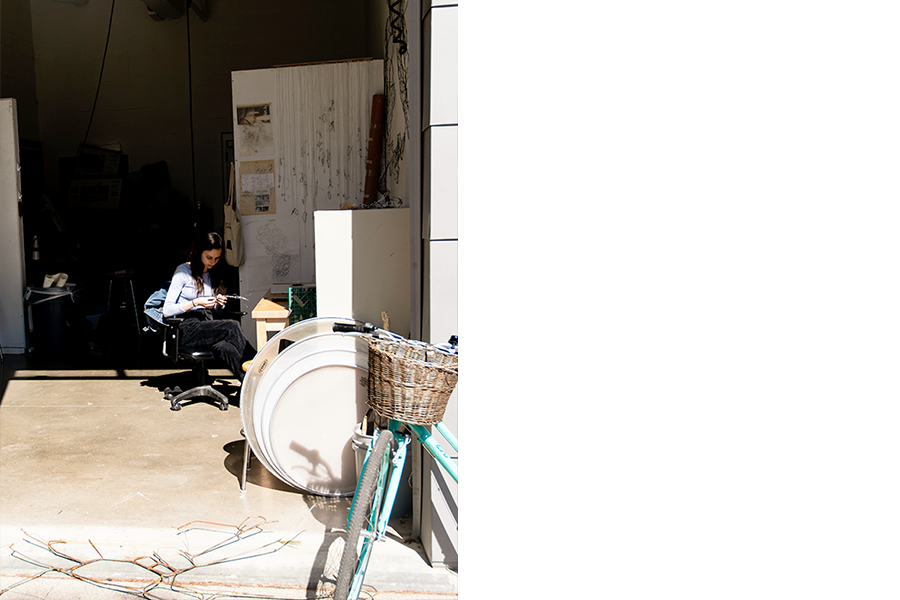 Natural light is an important aspect in Rumora's process. She enjoys opening the garage door and letting sunlight spill into her studio as she works.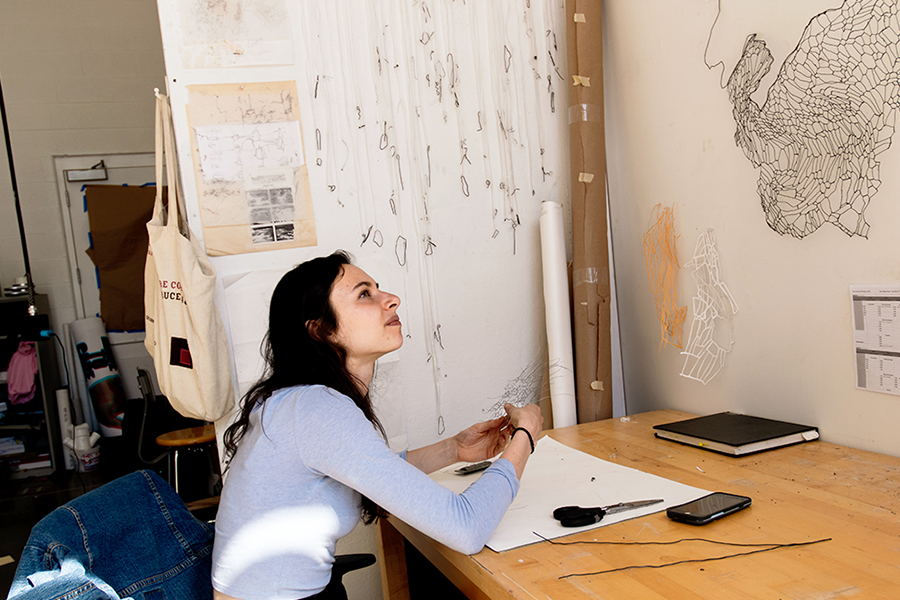 Rumora sits at her desk and analyzes the artwork hanging on the wall in front of her. Sketches and another sculptural piece are visible on the adjacent wall.
APRIL 19: INSTALLATION DAY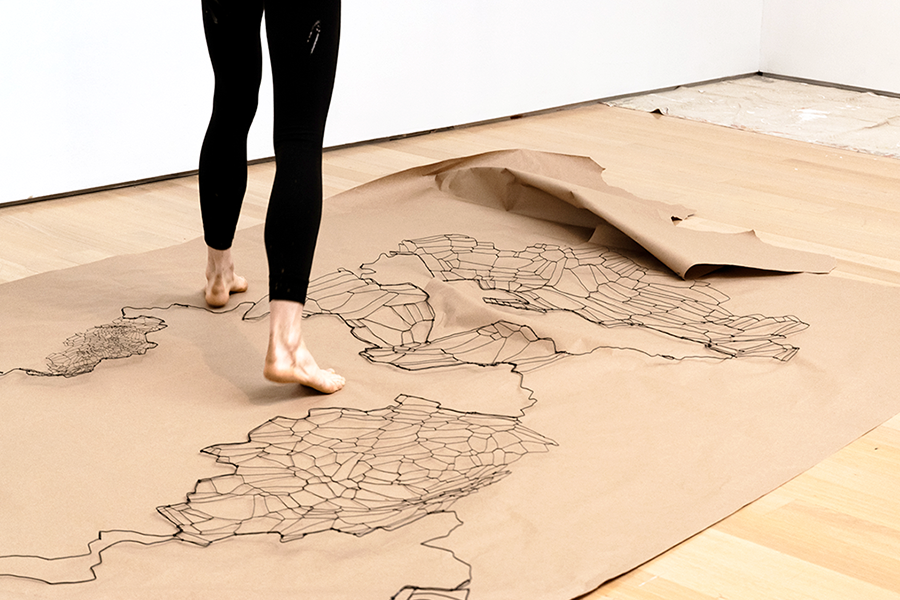 Rumora unwraps her pieces in the Gund Gallery and prepares to install.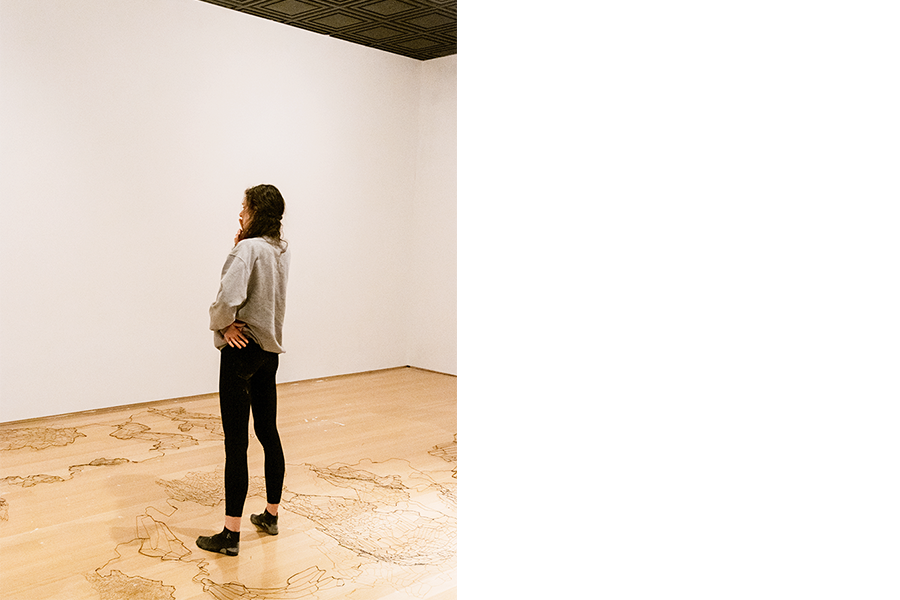 Once in her part of the gallery, Rumora considers how to hang her wire sculptures.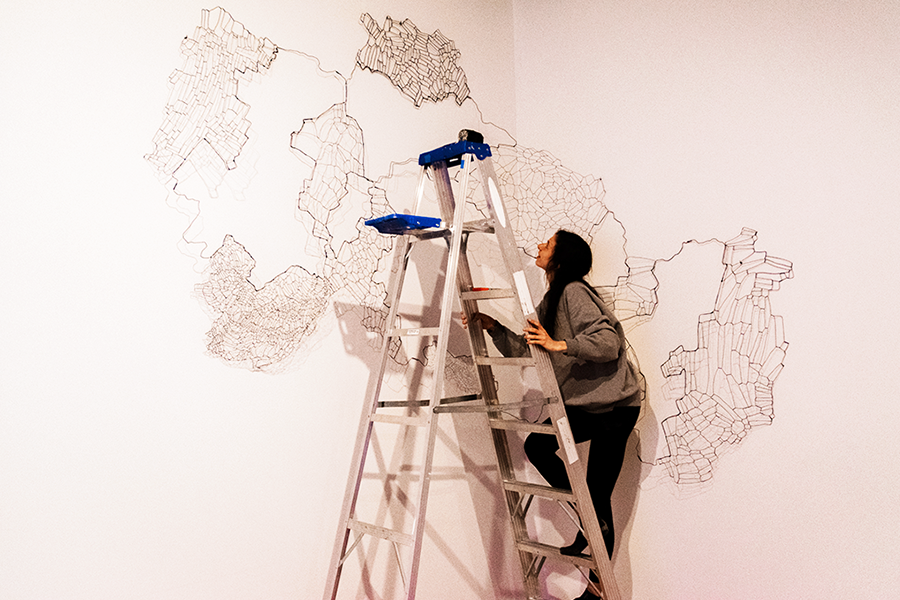 One of the three artworks is hung. Prior to installation day, artists confer with Gund Gallery Assistant Director Chris Yates, who manages lighting and offers installation advice.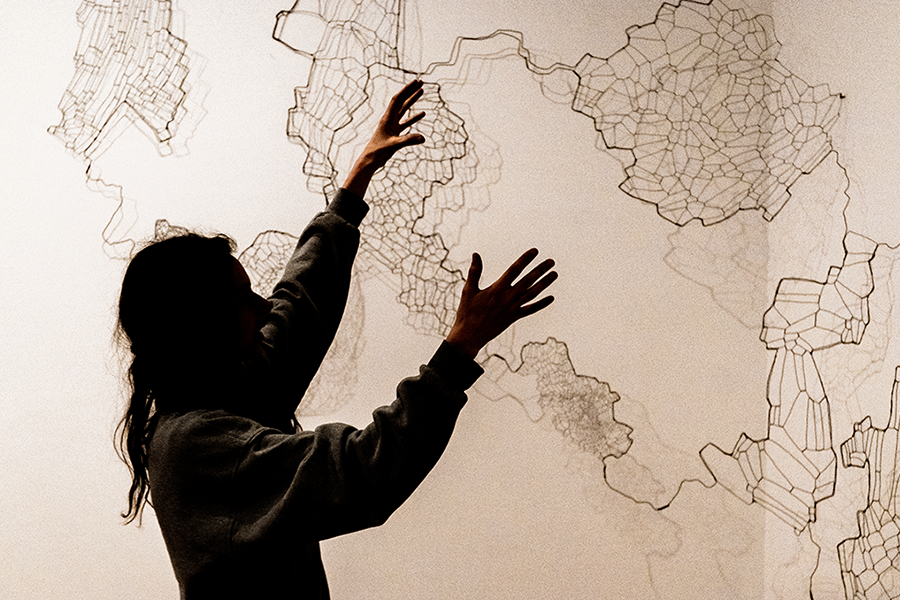 Rumora analyzes her work as it hangs on the wall. "'Displacement,' builds itself on a cyclical system of voids that are at once both vacant and occupied," Rumora says. "Somehow, thousands of nothings come together to make a series of somethings."
APRIL 22: OPENING NIGHT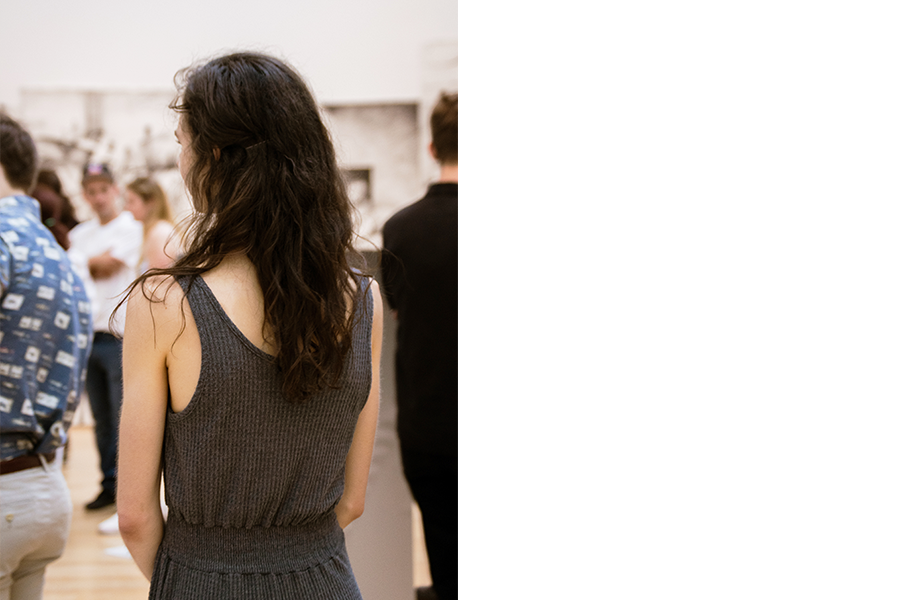 Rumora walks around the Gund Gallery on the exhibition's opening night.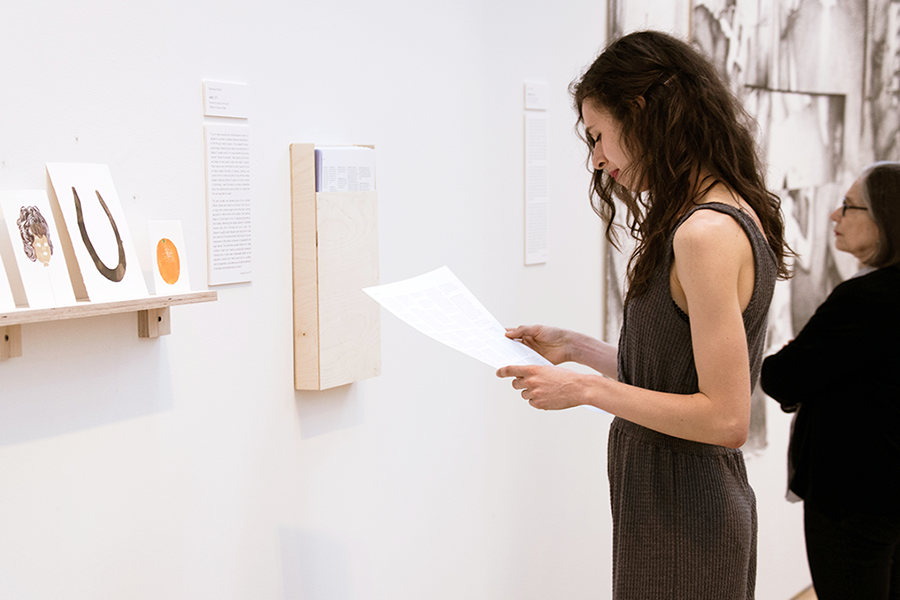 Rumora pauses to look at work by Anastasia Inciardi '19 work and read the key explaining each print.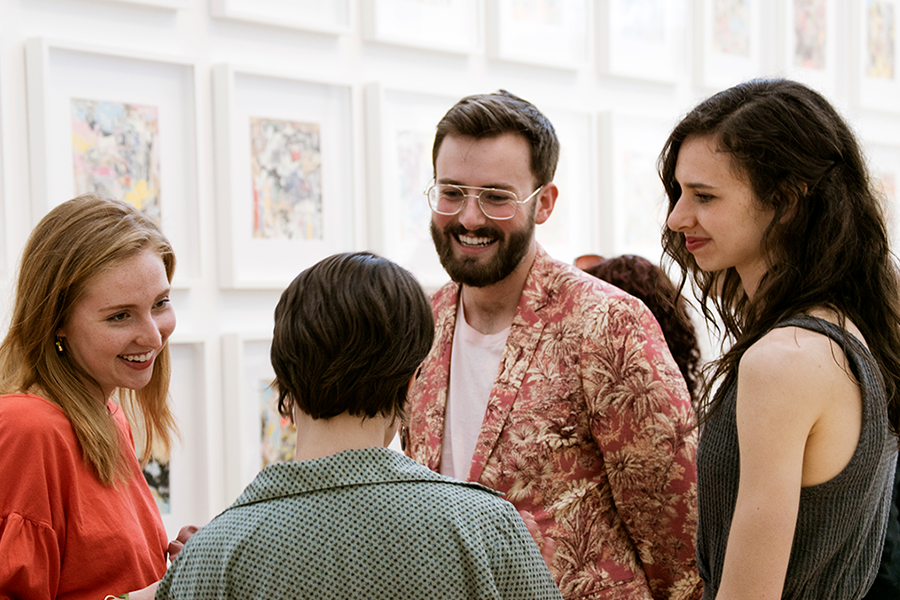 Claire Koelling '19, Emily Fritze '19, Oscar Dow '19, and Rumora greet each other and discuss the art opening. Assistant Professor of Art Craig Hill's exhibit "Cluster" hangs in the background.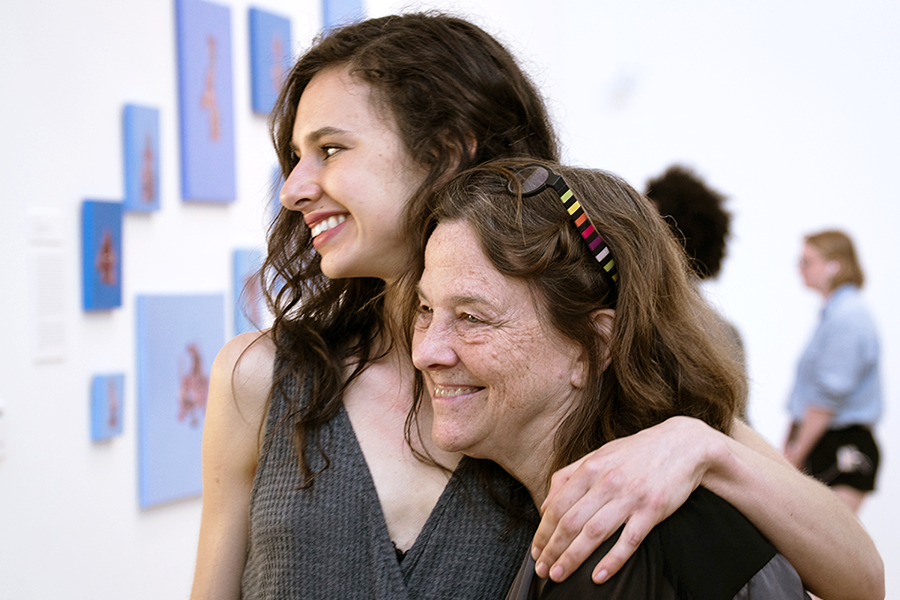 Professor Claudia Esslinger, chair of the art department, congratulates Rumora on the successful night.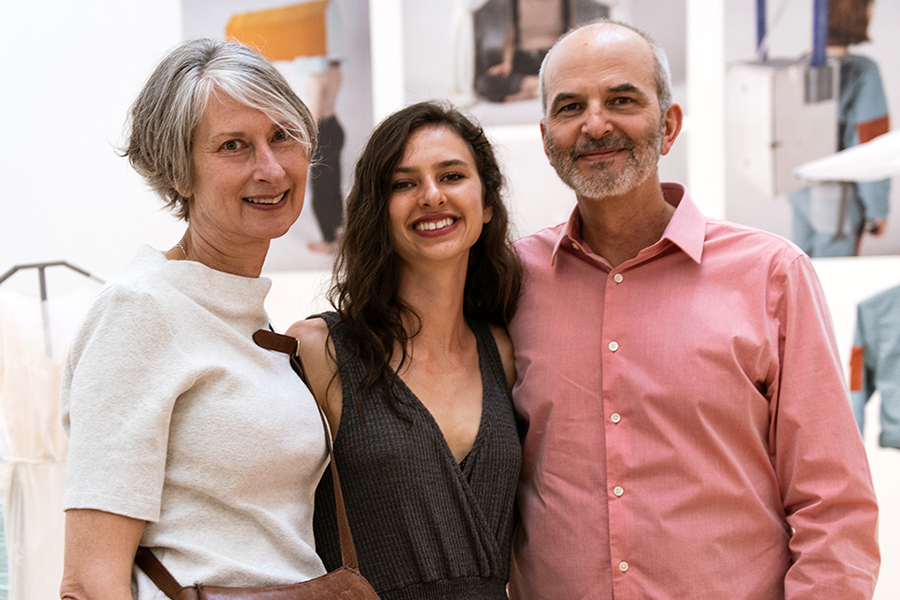 Rumora poses with her parents.
See the annual senior student exhibition at the Gund Gallery through May 18.