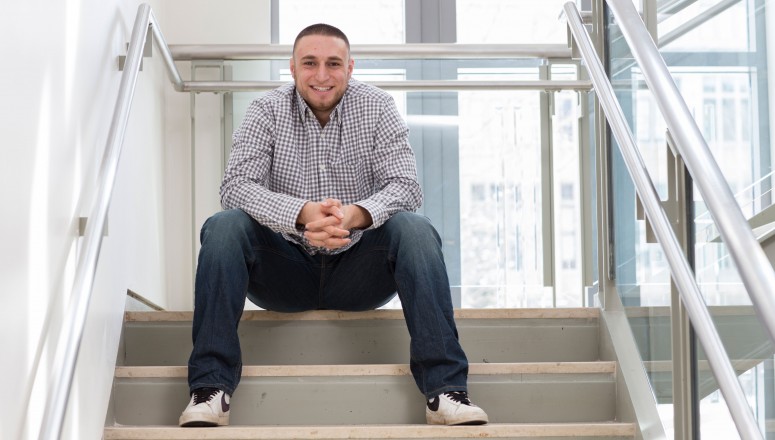 From Kenyon News - April 7, 2015
Hard work is a theme in the story of how Issam Hamdallah '16 won a highly competitive biology research internship this summer at the National Institutes of Health.
He is so dedicated to his research that he was in the lab every day of spring break tending to test tubes of E. coli. He accepted the Kenyon football coach's invitation to join the team, even though he's a wrestler. He played weekly chess games for four years with a 90-year-old man who didn't speak English for his volunteer work.
He wrote about how that friendship has parallels to science in his NIH internship application. "Science is universal. Love is universal. The game of chess is universal," said the biology major from San Francisco.
Hamdallah's leadership on research projects set him apart from undergraduates at other colleges, helping him earn the summer internship at the NIH's Center for Cancer Research.
"The nice thing about science is that no matter what background you come from, no matter who you are, your name, anything, it doesn't matter as long as you're good at what you do and you work hard," Hamdallah said.
Hundreds of people apply for NIH lab internships, and only 18 reach the finalist interviews, he said.
Ultimately, Hamdallah wants to focus his career on making a difference in cancer treatments. His undergraduate research is one small piece of the puzzle. He studies how E. coli adapt to environments with different acidity levels, important for researchers trying to design drugs that can combat bacteria tough enough to survive in fluctuating conditions.
E. coli is a model organism because its DNA sequence is similar to human DNA and it replicates quickly, he said. He will take some E. coli samples generated under pH stress at Kenyon to the NIH lab in Bethesda, Maryland, where he'll work this summer.
"Part of the reason he was hired was because very few people had the kind of high-level research experience that he did," said Joan Slonczewski, the Robert A. Oden, Jr. Professor of Biology.
Hamdallah started out cleaning test tubes and preparing others' experiments like everyone else in Slonczewski's lab. But she promotes people to research roles if they show dedication, he said.
He credits the hard work of his parents for his chance to study at Kenyon. They came to the U.S. from Palestine for better opportunities, and his father works two jobs that run most days from 6 a.m. to 11 p.m.
In San Francisco, Hamdallah earned a scholarship to attend a private high school from a program that provides students from low-income families with tutoring, internship help and college counseling to prepare them to succeed after high school. Service was one component of the scholarship.
"Here I am, a first-generation Muslim Palestinian, doing service hours for a Catholic school at the San Francisco Jewish Home," Hamdallah said. That group home is where he met with his chess buddy, who was from Ukraine.
At Kenyon, he met football coach Chris Monfiletto when they kept running into each other while working out at the Kenyon Athletic Center, where Hamdallah works.
He decided to give up his position on the football team for his upcoming senior year to focus on his research in the Biology Department's Honors Program. But "Coach Mono's" thorough preparation each week and genuine belief that the team could win despite a losing season had a permanent influence on his work ethic in the lab, he said.
"You need that in research. When something's wrong but you don't know what, you have to think of every possibility."
Hamdallah is weighing whether he will attend medical school or continue studying biology in graduate school, but he wants research to remain a big part of his career. Doctors can't save lives without research, he said.
"I want to do something great. I want to leave an impact on the world. We're only here for a short time."