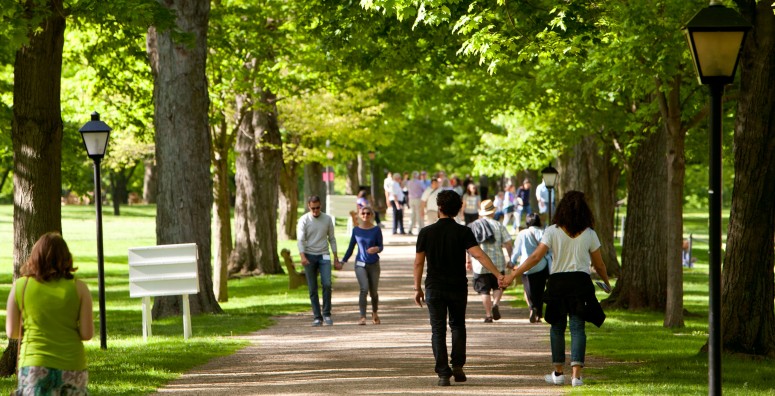 From Kenyon News - May 19, 2015
Campus will be buzzing with activity this weekend as alumni return to the Hill for Reunion Weekend. More than 1,300 people from 46 states are expected — which would be record attendance, according to Scott R. Baker '94, director of alumni and parent programs.
"It's thrilling to have such great attendance during one of the most beautiful times of the year at Kenyon. We're looking forward to celebrating with everyone," Baker said, adding that this year's event hosts classes ending in years zero and five, from 1965 to 2010.
The Chamber Singers, the College's a cappella choir, is celebrating its affinity reunion this year, which always brings in large numbers, Baker said. Chamber Singers alumni will perform a concert Saturday, May 23, at 9 p.m. in Rosse Hall.
Other notable activities for the weekend include:
Welcoming Shabbat at the new Rothenberg Hillel House Friday at 5 p.m.
Walking tour of the ghosts of Kenyon with Tim Shutt, professor of humanities, Friday at 8:30 p.m.
"The Art of Consumption" on the Gund Gallery lawn Saturday at 8:30 a.m.
Luncheon for the Gregg Cup Awards, Kenyon's highest alumni honor, in the Great Hall at Peirce Hall Saturday at noon
Reception featuring Kenyon authors on Ransom Hall lawn Saturday at 2 p.m.
Family concert featuring Grammy-nominated Justin Roberts '92 and the Not Ready for Naptime Players Saturday at 4 p.m. at the hospitality tent on Ransom Hall lawn
Facebook banners can be downloaded here.