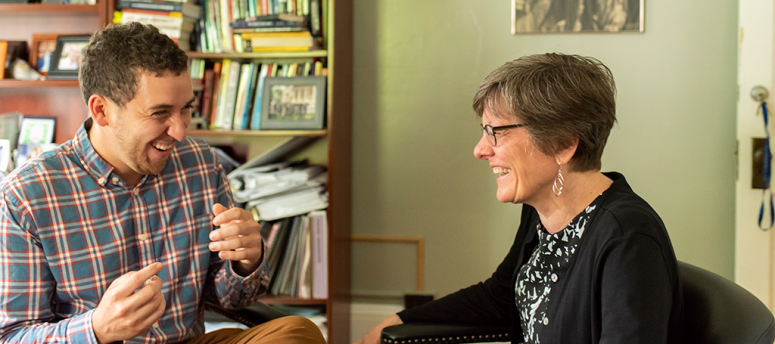 From Kenyon News - July 9, 2019
Halfway through his last semester at Kenyon, Nick Kaufman '19 was faced with a difficult choice. Accepted to two prestigious post-graduate programs, and unsure of which to accept, he urgently needed advice from his faculty advisor. The only problem — it was the middle of spring break.
But the close relationships he'd formed with Professor of Political Science Pamela Camerra-Rowe and other mentors meant Kaufman was able to get the support he needed through a series of phone calls — leading the political science major from Boston to accept a highly competitive Fulbright study-research grant.
After working with Camerra-Rowe to refine drafts of his Fulbright proposal — "he did it at least 20 times," she said — Kaufman will head to China at the end of this summer, settling in the capital of Anhui province, a relatively rural and impoverished area overshadowed by nearby megacities like Shanghai.
Similar to the brain drain seen in some parts of rural America, Anhui contends with many of its young people leaving home for the opportunity of the big city. Kaufman will study how economic investment and development in the province can convince young people to stay in their hometowns — or even lure new residents away from competitive and overcrowded metropolises.
Kaufman will partner with two institutions: the University of Science and Technology of China, a leading national research university; and the more regional Hefei University of Technology. Alongside Camerra-Rowe and Dean of Academic Advising Thomas Hawks, Professor of Chinese Jianhua Bai was also instrumental in helping Kaufman prepare his Fulbright application, by writing letters of introduction for him to present to the Chinese schools. And, while Kaufman originally enrolled in Chinese courses at Kenyon to satisfy his language requirement, Bai convinced Kaufman to keep going.
"I had the interest in the politics and history of China, but I never thought it would go anywhere because I didn't have the language component," Kaufman said. "Professor Bai said, 'you need to know Chinese to be able to do this,' and so I started in 100 [level courses] and worked all the way up."
Likewise, Kaufman freely admitted that his grade in Camerra-Rowe's class "ties for the lowest grade I've ever gotten in any political science class," but that didn't scare him away from choosing Camerra-Rowe as his advisor when he declared his major during sophomore year. "Every time I go in [to her office], I come out of there thinking about something else," he said.
Kaufman isn't the only student eager to pick Camerra-Rowe's brain during advising hours. "Go outside her office on any Tuesday afternoon and see the line of seven students waiting to talk to her," Kaufman suggested. And, for Camerra-Rowe, who has taught at Kenyon since 1994, mentoring generations of student never gets old. "Watching them develop over the four years is extraordinarily fulfilling," she said. "It's just a joy."
---
ADDITIONAL 2019 FULBRIGHT WINNERS
Alongside Kaufman's study-research Fulbright, four Kenyon students were awarded English teaching assistant (ETA) Fulbright awards.
Two additional members of the Class of 2019 were also selected as Fulbright alternates.
Charlotte Dreyer '19, a psychology major from Denver — Spain (ETA)
Sarah "Maggie" Murphree '19, a physics major from Meadville, Pennsylvania — Slovenia (study-research)