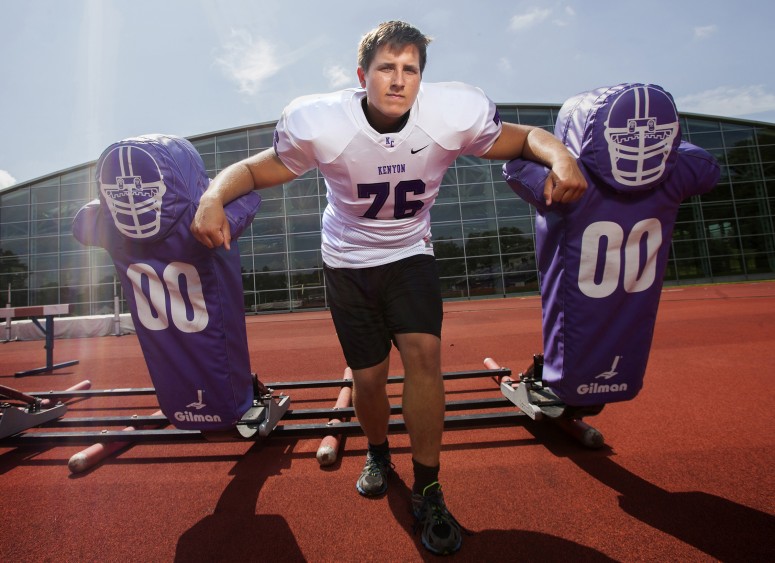 From Kenyon News - September 4, 2014
Alex Oles '16 is a big man who takes on big tasks.
His 6-foot-3-inch, 255-pound frame occupies a substantial portion of the Lords' offensive line, where he protects teammates by pushing around opponents. His stature doesn't matter so much in the lab, but the biochemistry major from Detroit still plays a role in safeguarding the common man from tenacious diseases.
At the end of the 2013 football season, Oles was named to the Capital One Academic All-District Team by the College Sports Information Directors of America. He parlayed that award with a $3,000 stipend from the Kenyon Pelotonia Partnership to conduct research at the Ohio State University Comprehensive Cancer Center.
The enormity of the situation, whether physical or medical, is what drives Oles. It's not so much that he has to be the big man in the middle of it all, but that he has to be in the middle of something big. When Oles talks about playing football, his words resonate in the medical arena, too.
"I do it for the team, I do it for my family, and I do it to be a part of something bigger than myself," Oles said. "It's a chance to affect a community in a positive way. You can give it your all and you can change the outcome. Playing for people you love and laying it all on the line just gives me a great feeling."
At Ohio State, Oles tried to sustain that feeling through a research project titled, "The effects of acetaminophen metabolite AM404 on the viability and gene expression of an EBV positive Burkitt's lymphoma cell line." The study found that when AM404, a metabolite naturally created by Tylenol (acetaminophen) when broken down in the liver, is applied directly to cancer cells linked to Burkitt's lymphoma and the Epstein-Barr virus, it stimulates receptors that kill off the cancer cells.
"We found that applying AM404 directly on the cells worked. It was a successful in vitro testing," said Oles, who is considering a career in cardiology. "The experience itself was reinforcing. It was exciting to get into the core of medicine and to go through the process in the lab, where it all starts. To see cells from an actual patient being treated by a potential solution—to see medicine in action—was just amazing."