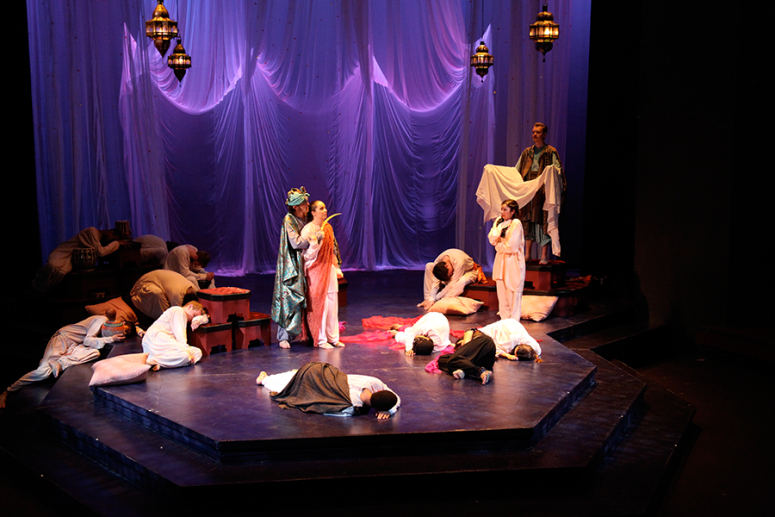 From Kenyon News - April 3, 2014
A tale of enchantment unfolds in the Bolton Theater this weekend with a production of The Arabian Nights, an adaption by Mary Zimmerman of the classic story collection One Thousand and One Nights.
The show is the final main-stage production of the Kenyon College Dance and Drama Club season and will be performed April 3-5 at 8 p.m.
"This production is an interesting and fun presentation of some of the stories from the well-known One Thousand and One Nights," said Jonathan Tazewell '84, Thomas S. Turgeon Professor of Drama and the show's director. "The play itself is a celebration of the oral storytelling tradition."
The play starts with the story of Persian King Shahryar, who marries a series of young women and then kills them the next day. Scheherazade, one of the women who marries the king, tries to save her life by telling him the beginning of a story and stopping just before dawn. Shahryar spares her life for one night, because he wants to know how the story ends. Scheherazade repeats the pattern, beginning a story and not telling the end until the next morning, extending her life by a day. The cycle continues for 1,001 nights, according to legend.
"The multiple stories within stories present a rich, humorous, and poignant homage to Middle Eastern and South Asian cultural tradition," Tazewell said. "This multi-racial and talented cast performs these stories, original music, and movement with skill and energy."
Tickets are available and can be purchased by calling the Bolton Box Office at 740-427-5546. General admission is $7.50 and Kenyon student tickets cost $2.00. The box office is open from Monday to Saturday, 1-5 p.m. and one hour before show time.
By Nina Zimmerman '14