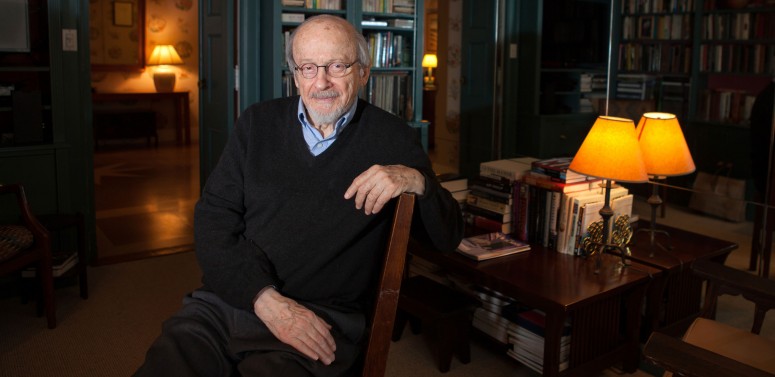 From Kenyon News - July 22, 2015
The death of E.L. Doctorow '52 H'76, a master of historical fiction, resonated across the country with tributes ringing out in news reports and even from the White House. In a tweet, President Barack Obama wrote of his appreciation for Doctorow's work, calling him "one of America's greatest novelists."
For those on the Hill and off the Hill, the writer's death on July 21, 2015, at age 84 was a loss both professional and personal.
"He was a very dear man, someone I was profoundly fond of," said David Lynn '76 P'14, editor of the Kenyon Review.
Perry Lentz '64 P'88 H'09, professor emeritus of English, said, "He was an extraordinarily generous and warm-hearted man, which was somewhat surprising given the fierce quality of his writing."
Doctorow was the author of 12 novels including Ragtime, Billy Bathgate and The March, three collections of short stories and a stage play. He won the PEN/Faulkner Award for fiction twice, a National Book Award and was a finalist for the Pulitzer Prize.
Ronald Sharp, former John Crowe Ransom Professor of English, remembers Doctorow's generosity to the College and the Review. "In addition to being one of the most accomplished novelists of our time, Ed was a loyal alumnus of Kenyon, returning frequently to give talks and supporting the Kenyon Review by contributing a long section of Loon Lake to the inaugural issue of the new series in 1979."
Doctorow received the first Kenyon Review Award for Literary Achievement in 2002. "We felt it was fitting to honor him not only because of his close connection to the Review and the College, but also because of his luminous standing," Lynn said.
Lynn's personal favorite of Doctorow's work is The March, a fictional account of Sherman's march during the Civil War. "I thought that seemed like a crazy risk to take as a New York writer," Lynn said. "But it was absolutely brilliant. It was told from many points of view — a tour de force."
Lynn notes that Doctorow belongs in the ranks of writers such as Philip Roth and Toni Morrison. "He was very formally experimental and adventurous," he said. "He did incredible things with history and fiction in terms of narrative techniques. At the same time, he wrote books that are tremendously powerful — historically, socially and politically meaningful."
Doctorow's experimentation in narratives and subject matter stood out to everyone from past College presidents to alumni.
"For as strikingly different one from another as your books have been, they have all dealt eloquently with themes central to our understanding of our culture and our knowledge of ourselves: themes of the absence of rooted identity, in this land of the free; themes of the potential for cowardice and evil, in this home of the brave; themes of the rarity and preciousness of love, of the evanescence and necessity of hope, of the harshness and miraculousness of life," said President Philip H. Jordan Jr. when he awarded Doctorow an honorary doctor of humane letters in 1976. Doctorow returned to the Hill in 1985 to give the Commencement address that spring.
Daniel Torday '00, director of creative writing at Bryn Mawr College and a book review editor for the Kenyon Review, noted that Doctorow walked the fine line of being critically acclaimed and widely read. "He was both a heavy literary novelist and the commercial novelist," said Torday, author of The Last Flight of Poxl West. "Every time he published a book, it was cause for celebration."
Doctorow will always be part of Kenyon history, Torday says. "From the late 60s to the present, he's as towering a figure in American letters as there is. He had such a reputation, his name will be synonymous with Kenyon forever."
Related Content
Beautiful Composition. Doctorow was invited to Gambier to give the Commencement address to the Class of 1985. Read the transcript of his May 19, 1985 address.
Remembering E.L. Doctorow. Read the full obituary of the acclaimed novelist, who majored in philosophy at Kenyon.