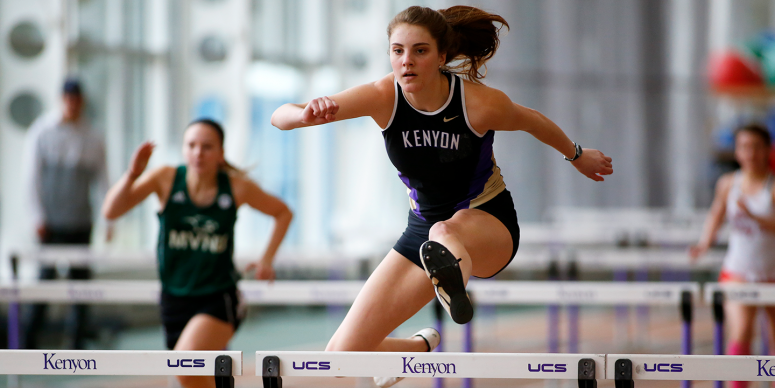 From Kenyon News - February 20, 2019
It's the start of a promising season for Kenyon student-athletes participating in spring sports. Take a look at what's to come for the Ladies and Lords in tennis, lacrosse, softball, baseball, track and field, and golf.
Women's tennis
The Ladies opened the previous year winning 13 in a row, which was the best start in program history. By season's end, the team finished with a 21-3 record and No. 22 ITA ranking, won the North Coast Athletic Conference (NCAC) tournament and advanced to the second round of the NCAA tournament.
This year, Erika Oku '21 is Kenyon's top returner. A year ago, she was the NCAC's Newcomer of the Year and First-Team All-NCAC selection. In 23 career dual matches, she has yet to lose. Beside Oku, the Ladies have real depth in both their singles and doubles lineup. In singles, four of six returnees – Oku, Maggie Sweeney '19, Ilana Blackwood '21 and Annie Reiner '19 – combined for an 86-22 record last year. On the doubles side, Oku, Sweeney and Blackwood were a part of 63 wins last season.
Men's tennis
Last year, Kenyon went 20-5, won the NCAC tournament for the 12th straight season (21st overall) and made it to the third round of the NCAA tournament. This year, Jacob Zalenski '20 and Austin Diehl '20 headline a strong returning group. Zalenski was the NCAC Player of the Year last season and, along with Diehl, was an All-NCAC First-Team selection.
In recent memory, Kenyon's singles lineup has always been its strength. That should not change this spring, especially with four of six starters returning. However, based on the Lords' performance in the season opener against the University of Northwestern Ohio, Kenyon's doubles lineup might be able to provide a big boost this year.
Women's lacrosse
Last season, the Ladies went 11-5 under first-year coach Jess Fugate, the most wins by a new coach in Kenyon women's lacrosse history. Among those victories was a 16-14, upset road win at then-NCAC leading Oberlin College.
For 2019, four Ladies – Maggie Grabowski '20, Cassie Hudson-Heck '19, Lucy Somers '19 and Avery Morgan '20 – return after being named All-NCAC in 2018. For Grabowski and Hudson-Heck, they were first-team selections. Kenyon's offense, which produced the second-best goals per game average (16.06) in the NCAC last year, should be good again. The Ladies' top six goal-scorers, led by Hudson-Heck, who tallied 58 last season, return for 2019.
Men's lacrosse
Kenyon went 9-6 last season and qualified for the four-team NCAC tournament for the sixth time in the last seven seasons. To lead the Lords' offense, Pierce Kraft '19 returns after totaling a team-high 48 points last year. He was also an All-NCAC Second Team selection. On defense, Kern Byrnes '21 is back after being named the NCAC's Newcomer of the Year while also earning second-team all-conference accolades.
The Lords have a lot of experience returning including at the attack and midfield positions; 71 percent of the team's scoring from a year ago returns. Plus, a total of 17 student-athletes who played in at least 80 percent of the team's contests last season are back.
Softball
The Ladies started last year's season 12-4, but ended up with a final 19-21 overall record that included a 3-13 NCAC mark. For spring 2019, Head Coach Erin O'Neill is excited about her team's depth. There are 12 newcomers that will be paired with eight returnees. Those 20 players comprise O'Neill's largest team in her nine seasons at Kenyon.
Returners include Grace Finn '21, who had an outstanding first year, racking up team highs in batting average (.415), hits (49) and runs (31). Britny Patterson '19 returns as well. Before suffering a season-ending injury early last season, she was batting .469 through 14 games.
Baseball
The Lords went 16-18 last year, which included an 11-10 upset victory at No. 1-ranked Wooster. That win helped the team make the North Coast Athletic Conference tournament for the first time since the 2012 season. This year, Matt Contreras '19, Alex Gow '21 and Patrick O'Leary '20 are Kenyon's top three returning batters. A year ago, Contreras led the team in home runs (5), doubles (14) and stolen bases (8). On the mound, Patrick Craig '21 is back after posting a staff-best 3.38 earned run average.
The Lords have what Head Coach Matt Burdette believes is one of his deepest pitching staffs in recent memory. Craig, along with Will Allen '20 and Nathan Chandler '20, are three returners that contributed last season. In all, nine arms return to help the staff.
Women's track and field
Last year, the Ladies claimed fourth place at the NCAC indoor championship and followed up with another fourth place at the conference's outdoor championship. Returning athletes who captured All-NCAC accolades a year ago include Rosa Rumora '19 (distance), Sophie Niekamp '21 (distance) and Caitlyn Haas '20 (sprints).
The strength of this program typically has been the distance runners, and this year will be no different. Look for Rumora and Niekamp, along with Andrea Ludwig '19, Caroline Daugherty '19 and Lily Valentine '19, to be among the team's top point-getters.
Men's track and field
In 2018, the Lords finished in ninth place during the conference's indoor championship in March and then moved up to eighth place at the outdoor championship in May. For 2019, Jordan Potter '19 and Tanner Orr '19 can be counted on as consistent point producers. Potter, a thrower, owns the Kenyon outdoor record in the discus, and Orr, a jumper, has the indoor record in the long jump.
With multiple-time All-NCAC honorees Potter and Orr leading the way, the Lords will be solid in field events. Steered by Tommy Johnson '20 and Kyle Rose '19, distance runners will provide reinforcements in the season ahead.
Golf
The Lords registered eight top-three finishes and placed third at the NCAC championship last year. Both Ryan Muthiora '18 and Lawrence Courtney '21 participated, as individuals, in the NCAA Division III championship. This year, with a deep roster of 11, the competition for playing spots will only make this team stronger.
Graduation claimed Muthiora, so the path is open for Lawrence to lead this year. Last season, he earned PING All-Region honors and was named a semifinalist for the Jack Nicklaus National Player of the Year Award. Two-time All-NCAC honoree Robert Williams '19 will also make a difference. He led the team in scoring average during the fall season.