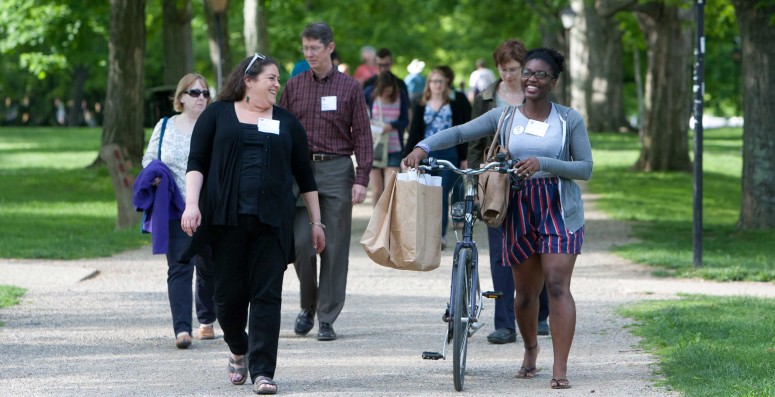 From Kenyon News - May 26, 2016
Campus buzzed with activity — and cicadas — this weekend as alumni returned to the Hill for Reunion Weekend. More than 1,300 people from 41 states and eight countries attended, according to Scott R. Baker '94, associate vice president of alumni and parent engagement.
This year's event hosted classes ending in years one and six, from 1966 to 2011. The reunion also marked a milestone as the Kokosingers, Kenyon's oldest a cappella group, celebrated their 50th anniversary, and the Peeps gathered for an affinity reunion. Kokosingers alumni performed a concert at 9 p.m. Saturday, May 28, in Rosse Hall.
"Every reunion year has its unique characteristics, and this one had it all, from a bittersweet celebration of our beloved Dean Tom Edwards to raising the roof at the Kokosingers 50th Reunion concert," Baker said. "Reunion Weekend 2016 had something for everyone — including cicadas!"
Other notable activities for the weekend included:
Walking tour of the ghosts of Kenyon with Tim Shutt, professor of humanities, at 8:30 p.m. Friday, May 27, starting inside the Church of the Holy Spirit
Town meeting with President Sean Decatur at 10 a.m. Saturday, May 28, in Higley Hall Auditorium
Luncheon for the Gregg Cup Award, Kenyon's highest alumni honor, and other alumni awards at noon Saturday, May 28, in the Great Hall at Peirce Hall
Reception featuring Kenyon authors at 2 p.m. Saturday, May 28, on Ransom Hall lawn
Family concert featuring Grammy-nominated Zak Morgan '94 at 4 p.m. Saturday in the hospitality tent on Ransom Hall lawn
Facebook banners can be downloaded here. Share your favorite Reunion moments on Twitter and Instagram under #KenyonReunion.