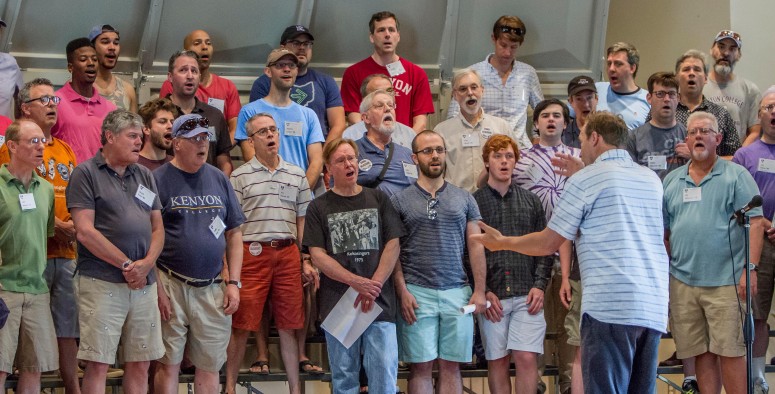 From Kenyon News - May 31, 2016
Fifty years after Jim Hecox '69 helped start the Kokosingers, he still had a technical question during the group's reunion rehearsal.
"Do we sing 'row,' 'rooh' or 'ruh'?" he asked.
For their version of the Van Morrison classic "Moondance," Joe Horning '83 advised Hecox to emphasize "ROW-mance." That may seem obvious, but the Kokosingers experiment with each syllable and chord in a song to produce lush and precise harmonies.
Those harmonies filled Rosse Hall on Saturday, May 28, when more than 70 members of one of Kenyon's oldest a cappella groups returned to Gambier to celebrate the group's 50 years. The show drew a full house and was a highlight of Reunion Weekend.
"There were Kokes there that I hadn't seen in a long time. It was packed," Jeff Walker '74 said.
The Kokosingers prepared for the anniversary concert with hours of rehearsal that began two nights prior to the concert. This was not a genial brush-up of Kokes standards, including songs such as "Kokosing Farewell" and "The Thrill." They returned to Gambier for a precise, challenging attack on new arrangements.
"At least 80 percent of the guys haven't sung two of these pieces," said Horning, who manned the piano and directed most of their first rehearsal in the same way he directs singers at a high school in Cambridge, Massachusetts. "I thought they did extremely well in the first rehearsal. It's a hell of a lot of fun."
They all had done their homework on the way to Gambier. Walker's wife, Karen Walker '77, said, "Jeff was practicing on the plane, wearing his earbuds and mouthing the words." She added, "He still sings all the time. He never stops!"
When Hecox arrived at Kenyon in 1965, the singing organizations on campus included a chamber choir and the Chasers, which formed the year before. He wanted a harmonizing ensemble like he had at his New Jersey high school. Hecox organized the Kokosingers to counter the growing hippie culture by singing songs like "Coney Island Baby" while wearing blazers and ties. Their first concerts were informal and moved from Peirce Lounge to the main dining hall as their popularity increased. By 1973, the Kokes were performing to big crowds in Rosse Hall.
Now students in the Kokosingers practice five nights a week, present two formal concerts a year and tour the East Coast for two weeks each winter. The Kokosingers' YouTube channel has more than 700,000 combined views for dozens of songs ranging from Drake's "Hotline Bling" to the Doobie Brothers hit "What A Fool Believes."
During their rehearsals for the anniversary concert, Kokosingers from the 1980s sang from printed sheets of paper and wore blue and lavender polo shirts. Younger Kokosingers, dressed in tank tops and T-shirts, sang from sheet music on iPads and smartphones. But by Saturday evening, they all were sporting navy blazers and khakis — the signature look of the Kokosingers — ready to once again entertain Kenyon before adjourning to Weaver Cottage, singing for themselves late into the night.
Marc Lacuesta '95 is producing a CD of the reunion concert. For information on the CD or the history of the Kokosingers, contact Eric Koppert '74 P '04 at erickoppert@neo.rr.com.
Read a transcript of the remarks made at the concert by Peter Arango, Class of '68 and a founding member of the Kokosingers.
Mary Fish Arango, professional photographer and wife of Peter Arango, has kindly shared her photographs of the concert. See the gallery below for a selection of images and view her full album at smugmug.com.