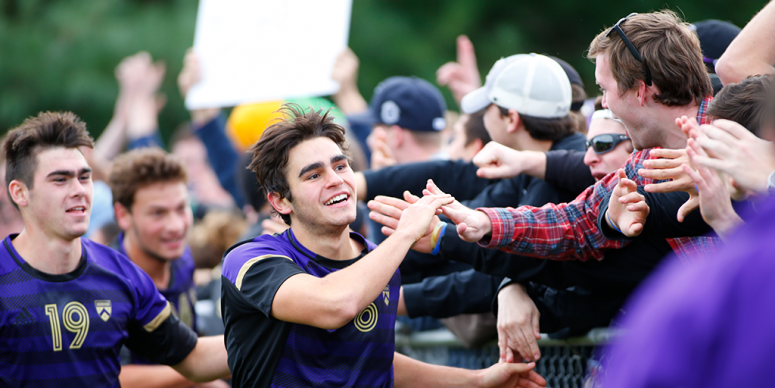 From Kenyon News - November 15, 2017
A math and economics major at Kenyon and the second soccer player in conference history to win both offensive and defensive player of the year, Henry Myers '18 is used to pulling double duty.
His work ethic was rewarded this season with a job offer at New York Life in Manhattan and a perfect regular-season conference record of 9-0-0 for the Lords.
With a semester of job-hunting and shot-taking behind him, Myers, from Lebanon, Ohio, is turning his attention to other goals. He is studying for the next in a series of actuarial exams required to become fully certified — having already passed two, Myers hopes to complete a third before he starts work as a life insurance actuary after graduation, tackling the remaining exams as his career progresses.
Plus, Myers is completing Senior Exercises, known as "comps," for both of his majors. For his honors economics project, he's documenting how the Affordable Care Act has affected the use of health insurance over the past few years. He'll have to defend his paper to an outside group of observers.
Myers, who knew he wanted to major in math since high school, decided to pursue an actuarial job after taking a math class his sophomore year on probability. The course covers skills used regularly in his chosen profession — determining rates by forecasting the likelihood of various events.
He complemented his coursework with two internships — one at the Denver office of the health insurance giant Cigna and the other at New York Life, which led him to apply for his job. At Cigna, Myers worked alongside interns who already had begun passing actuarial exams. "That internship changed my potential career," he said.
As his actuarial career kicks into gear, the ending of his soccer career is bittersweet for Myers, who has played competitive sports since childhood. The Lords made it to the second round of this year's NCAA Division III Men's Soccer Championship, with Myers sidelined by a knee injury in the first game. "There's nothing quite like being with all of your closest friends and doing something that's really important to all of you," he said.
Upon moving to Manhattan after graduation, Myers plans to connect with the city's strong cohort of Kenyon alumni and former Lords soccer players. "That will ease the transition a bit."