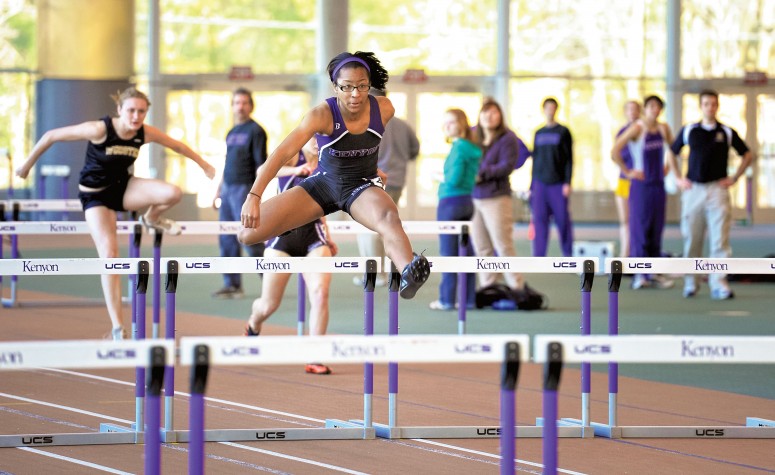 From Alumni Bulletin - August 12, 2014
Sierra DeLeon '14, a two-sport athlete, packed away her volleyball gear from the fall and shifted into spring in high gear. She strung together multiple explosive performances that included record-breaking Kenyon runs in the 100- and 200-meter dashes, as well as the 100-meter hurdles. She slowed down enough for an interview.
Your favorite event? Probably the 100-meter hurdles. It's kind of a weird concept when you think about it: intentionally putting obstacles in your path so that you can overcome them. But I have always been intrigued by the unconventionality of it.
What drives you to improve your times? The thing that motivates me to run faster is the fact that I can run faster. The idea of untapped potential excites me and makes me feel like there is so much more of myself to discover. I seek to discover the limits of my potential, but I keep finding that the further I push myself, the further I go.
What goes through your mind as you get in the blocks? I am consistently so very anxious every time I get into the blocks. It seems to be a combination of amnesia and fear, but in a good way. I do my usual routine as if to remind myself that these feelings are familiar. I always look down the track and fixate on what is ahead of me. I back up and inch my way into the blocks and, at this point, I have to remind myself to breathe. I look ahead, take a deep breath, put my hands down, and remind myself of the simple things right before the gun goes off. After that, I am thinking about nothing except for go, go, go.