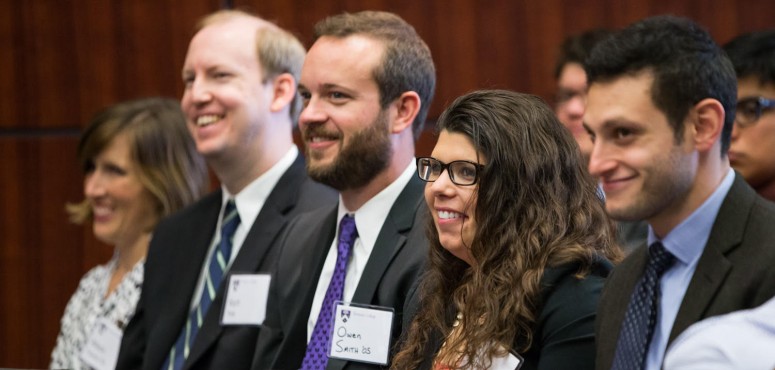 From Kenyon News - October 13, 2016
A month before Election Day, 50 Kenyon students boarded a bus and headed to Washington, D.C., to meet, mingle with and learn from alumni who have made careers on Capitol Hill. The event, "From Hill to Hill," was hosted by Kenyon's Center for the Study of American Democracy and co-sponsored by the D.C. Regional Alumni Association.
"The idea of a greater partnership between CSAD and the D.C. alumni presence has been longstanding," said Tom Karako, director of CSAD and a senior fellow at the Center for Strategic and International Studies, where the conference was held. "I think that the felt appetite for increasing the connections between students and alumni continues to grow."
The conference featured three panel discussions composed of Kenyon faculty and alumni that focused on the topics of President Barack Obama's legacy, the presidential election and the media, and America's security in 2016 and beyond. The event concluded with a keynote address by General Michael Hayden, who has directed both the National Security Agency and the CIA.
In addition to hosting more than 100 D.C.-area alumni and parents, CSAD solicited applications from students eager to make the trip during Kenyon's four-day October break, leaving Thursday, Oct. 6, and returning Saturday, Oct. 8. Students toured the U.S. Capitol Building the morning before the conference and had time for personal sightseeing before the bus returned to Gambier on Saturday afternoon.
In between viewing the classic 1939 film "Mr. Smith Goes to Washington," discussing assigned readings with Professor of Political Science Pamela Camerra-Rowe during impromptu Beltway-gridlock office hours, and completing an election-themed crossword puzzle (the answer to 11 across, "Trump's favorite adverb," was "bigly"), several students on the bus explained why they chose to attend the conference.
"I really want to work in the government, working for people, and I try to take advantage of any opportunity to get closer to that goal," said Christopher Paludi '20 of Redondo Beach, California, who plans to pursue American studies and public policy at Kenyon. "To connect with Kenyon alumni who are in the field is a great opportunity."
Fellow Californian Julia Waldow '17, an English major from Beverly Hills, interned at CNN during the summer to prepare for a career in political journalism. "I think that attending this conference will be an excellent opportunity for me to learn more about what that might be like, be able to meet some alumni who are also passionate about politics and the media, and just gain as much information as I can in a really practical manner," she said.
For Shannon Paige '20, who was born in Antigua and Barbuda, the conference was an opportunity to get closer to the upcoming election. "I'm an international student, so I can't vote, and so it's really important for me to be where everything's happening, because I feel sometimes like I don't really have any control over what's going to happen, politically speaking, in America," she said. "But it will affect me, and so I just wanted to go and hear from people who are informed and educated, and hear what they think is going to happen and how it's going to play out in the next few weeks."
How the news media has covered the election was a major topic during the day's second panel, with Paul Singer '88, politics editor for USA Today, and David McCabe '14, a staff writer for The Hill, providing insight on how journalists work in today's fast-paced media landscape. Ben Fritsch '13, the communications director for Rep. Eleanor Holmes Norton (D-DC), discussed the other side of the equation: how to attract journalists' attention to his boss's work in Congress. A lively discussion between Singer and several students regarding media coverage of terrorism and of the Syrian refugee crisis spilled into the lobby during an inter-panel break — but ended with a respectful handshake.
Civil disagreement also emerged when discussing Obama's legacy. While Paul Brown '86, managing director at Prime Policy Group, praised the president's "unrivaled integrity, lack of scandal and lack of drama," and Jack Pratt '98 of the Environmental Defense Fund predicted that Obama would become known as "the Democratic Reagan," Professor of Political Science Fred Baumann noted several "tasks neglected" by the Obama administration, including, he said, the decline of physical infrastructure, increased racial strife and alienation of the working class, and a disastrous foreign policy.
"I've been delighted with the substance and the tone of the discussion," Karako said after the panels concluded. "It's been very probing, it's been very civil, and wide ranging. And I think that, in short, it's just the sort of discussion that we would expect and hope for in the larger Kenyon environment, among the larger Kenyon family."
Alumni who attended the conference were eager to reconnect with former professors and forge new connections with students. "It's so refreshing to see our poli-sci professors, especially during this heated election season, and just talk to them about everything that's going on," said Raleigh Dierlam '13, who works for the National Republican Senatorial Committee.
"I was very impressed by the students — their eagerness to network, their thoughtfulness throughout panel discussions," said Rachel Berger '11, who helped organize the conference on behalf of the D.C. Alumni Regional Association, of which she is the vice president, along with Tommy Brown '13. "It's important for Kenyon students to see the impact they can have once they leave Gambier while also meeting folks who work each and every day on issues they discuss in class."
Leslie Schwager P'20 attended the conference along with her son, Adam, a first-year student. "I was sitting there thinking, 'Oh my gosh, this was such the right choice for my son,' " she said. "What a great community, and the opportunities are endless. I mean, I looked at my friend and said, 'I want to go back to school.'"
Paludi shared Schwager's enthusiasm for the opportunity to attend this event so early in his Kenyon career, adding, "I honestly could not imagine being more excited about my education than I was on the bus ride back."