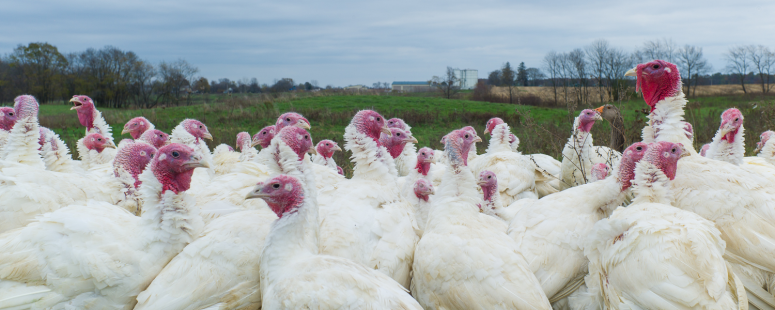 From The Collegian - November 16, 2017
From the back of a pickup truck filled with stray grain and farm tools, Sweet Grass Dairy's turkey pasture came into view. The truck finally stopped at an open area on one section of the 200-acre farm where approximately 300 turkeys roamed across the grass. Their pasture includes two structures, one for food and water and one for adolescent birds to perch on. Two geese blend in with the turkeys and honk to warn the other birds of nearby danger. Two dogs, who greeted us when we first arrived, roam around the farm to scare off predators. The Fredericktown dairy, about a 20 minute drive from Gambier, raises the turkeys for AVI's "Peircegiving."
Sweet Grass Dairy is a family-run farm that uses organic methods. Its cultivators, Jacob and Elizabeth Coleman, recognize a growing interest in community engagement with local agriculture. Despite balancing their work on the farm with raising four young children, the Colemans manage to offer pasture tours and farming workshops. Both Elizabeth and Jacob grew up on dairy farms in Pennsylvania. They use all organic, regenerative permacultural techniques, meaning that they don't use pesticides. Instead, they opt for methods which maintain nutrient-rich soil over the span of many years.
They receive their turkeys as one-day-old chicks and raise them free-range; the turkeys naturally rotate to fresh pasture within a close distance of the water and the complete ration that supplements their grass-based diet. After about 14 weeks, when the turkeys reach between 12 and 22 pounds, the farm sends them to a local processing company to be butchered. Finally, the meat is handed off to customers like AVI.
Sweet Grass Dairy, which was founded in 2013, stays true to its name; although they raise hogs and chickens as well as turkeys, their primary livestock is dairy cattle. They also raise several beef cattle. "The turkeys, they have a lot more of a personality than a chicken … they're a little harder to start than a chicken, they are a little more fragile," Elizabeth said. But she believes this challenge is worth it. "Once you get them started, they thrive," she said.
This will be Kenyon Resident Director of AVI Chris Wisbey's first Peircegiving since arriving at the food service's Kenyon branch in January. He was eager to seize the opportunity to bring Collegian staff members to see where the Peircegiving turkeys were sourced. "We really try to do local as much as we can," Wisbey said.