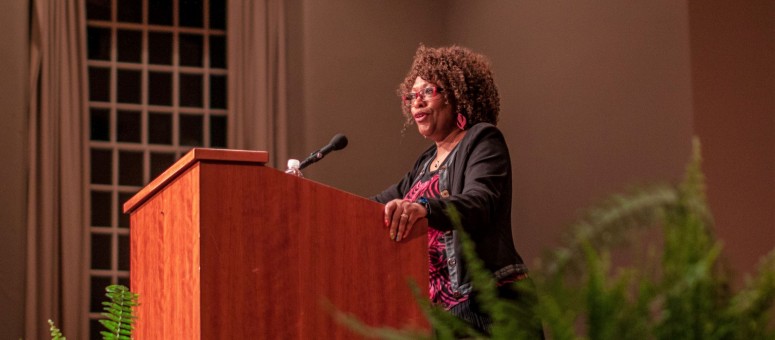 From Kenyon News - November 2, 2018
Pulitzer Prize-winning poet Rita Dove was the keynote speaker at this year's Kenyon Review Literary Festival, held Nov. 5–9.
Dove is this year's recipient of the Kenyon Review Award for Literary Achievement, chosen by the esteemed literary journal's editors and board of trustees. Her Denham Sutcliffe Memorial Lecture, named for a legendary Kenyon professor of English, was held Friday, Nov. 9, at 8 p.m. in front of a sizable Rosse Hall crowd. "I can't remember a time when I wasn't around books," Dove said, and despite being a very shy child, she "found another world of possibilities in reading."
"The conundrum of a writer's life, particularly that of a poet, is learning to embody a paradox," she continued. "One has to be fierce and tender at the same time, loud and quiet, brash and introspective."
Winner of the 1987 Pulitzer Prize and poet laureate of the United States from 1993–95, Dove is the only poet to have received both the National Humanities Medal and the National Medal of Arts. In addition to numerous poetry collections including "The Yellow House on the Corner," "Thomas and Beulah" and "Collected Poems: 1974–2004," Dove has written several works of prose, including the essay collection "The Poet's World," the novel "Through the Ivory Gate" and the short story collection "Fifth Sunday." Her play "The Darker Face of the Earth" premiered at the Oregon Shakespeare Festival and was later staged at the Kennedy Center in Washington, D.C., and the Royal National Theatre in London. Dove has also been mentioned as a potential candidate for the Nobel Prize in Literature.
Dove, a native of Akron, Ohio, is currently the Commonwealth Professor of English at the University of Virginia and poetry editor of the New York Times Magazine.
"Rita Dove is an exceptional poet, one of great power and resonant beauty, as well as one of significant influence on an entire generation of American poets," said Professor of English David Lynn '76, the David F. Banks Editor of the Kenyon Review, who introduced her lecture. "We at Kenyon are eager for the chance to honor and to learn from her."
The Kenyon Review Award for Literary Achievement is given annually to honor careers of extraordinary achievement that have shaped the American literary landscape. Previous winners include Colm Tóibín, Margaret Atwood, Joyce Carol Oates and E.L. Doctorow '52 H'76. Dove was presented with her award at the Kenyon Review Awards Gala on Wednesday, Nov. 7, in New York City.
THE KENYON REVIEW LITERARY FESTIVAL SCHEDULE:
These events are free and open to the public.
Monday, Nov. 5
A panel discussion of Rita Dove's poetry

at 4:10 p.m. in Finn House's Cheever Room.

Join writer and cultural critic Hanif Abdurraqib, poet and editor Eloisa Amezcua, Visiting Assistant Professor of English Andrew Grace '01 and Kenyon Review Fellow Keith Wilson for a conversation moderated by Associate Professor of English Jené Schoenfeld.
Tuesday, Nov. 6
The music and poetry of "Sonata Mulattica,"

at 7 p.m. in Finn House's Cheever Room. This acclaimed book by Rita Dove focuses on the relationship between Ludwig van Beethoven and biracial violinist George Bridgetower. A book reading will be accompanied by Beethoven's Violin Sonata No. 9, performed by Alayne Wegner '17.
Wednesday, Nov. 7
A reading by Hilary Plum

at 4:10 p.m. in Finn House's Cheever Room. Plum is the author of the novel "Strawberry Fields," which won the 2018 Fence Modern Prize in Prose. Her nonfiction work "Watchfires" won the 2018 Great Lakes Colleges Association (GLCA) New Writers Award. A book signing will follow.
Thursday, Nov. 8
A reading by Emily Fridlund

at 4:10 p.m. in Finn House's Cheever Room. Fridlund's first novel, "History of Wolves," was a finalist for the 2017 Man Booker Prize and the PEN/Robert W. Bingham Prize for Debut Fiction. It won the American Academy of Arts and Letters Sue Kaufman Prize for First Fiction and the GLCA New Writers Award. A book signing will follow.
Friday, Nov. 9
Sidewalk sale

starting at noon outside the Kenyon Bookstore. Browse a wide selection of literary magazines and small-press books during the daylong sale.

The Denham Sutcliffe Memorial Lecture: An Evening with Rita Dove

at 8 p.m. in Rosse Hall. Dove, a Pulitzer Prize-winning poet, has authored numerous acclaimed collections of poetry and prose. A book signing will follow.