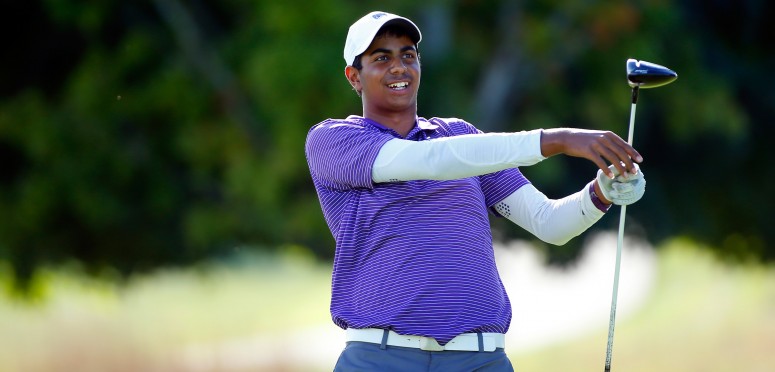 From Kenyon News - October 7, 2016
Think about having a deep bruise. Then imagine someone pressing on that bruise.
That unpleasant feeling overpowered Sadiq Jiwa '18 this summer while he was golfing in a U.S. Amateur qualifier in his hometown of Vancouver, British Columbia. At the time, he was into the second round and flirting with a top-five spot. He took a swing on the 12th hole and succumbed to the misery. He no longer could put any weight on his left leg and had to withdraw from the tournament.
"It was the hardest thing I've ever had to do. I'm not a quitter," Jiwa said.
At age 6, Jiwa, now a member of Kenyon's golf team, was diagnosed with juvenile idiopathic arthritis, an autoinflammatory disease that erodes cartilage and causes joint instability. Every day is an uncertainty for Jiwa, who can only do his best to manage his condition. And that, he says, is why he is at Kenyon.
"The routine that I found here at Kenyon, I love it, and I would not trade it for anything," he said. "I do believe that Kenyon has some of the best resources for me to become the best golfer I can be and for me to become the best student-athlete I can be."
His passion for golf has led to an on-campus undertaking that includes various medications, morning stretching routines and modified afternoon workouts, as well as practice on the course or inside the Kenyon Athletic Center, utilizing the Golf Performance Lab. Additionally, Jiwa frequents the training room and relies on Head Athletic Trainer Mark Teeples, who he says has been "vital" in the daily process.
Jiwa, who majors in economics and also is interested in environmental studies, is keenly aware of his support structure here and because of it, refuses to let the arthritis preside. He's been part of a Lords team that has finished top-three at the conference championship in each of the past two seasons and has collected five tournament wins during that same span.
He bustles around the Gambier community as a campus tour guide and as an active member of the Middle East Student Association, the International Society at Kenyon and the Environmental Campus Organization. Back home, he annually participates in the World Partnership Walk, helping to raise more than $10,000 for the Aga Khan Foundation and its battle against global poverty.
In July, Jiwa was back on the links, this time representing Canada in the Jubilee Games, a weeklong Olympic-type event that drew some 2,000 athletes of the Ismaili Muslim community from around the world. Playing on the Emirates Golf Course in Dubai, United Arab Emirates, Jiwa made it through three rounds of extreme heat, put in extra work to temper any flare-ups and earned a silver medal.
"I am most impressed with his work ethic and his drive to get better," said Head Golf Coach Grant Wallace. "He hasn't used his medical issues as an excuse. What he has to go through each day makes you realize just how bad he wants to be one of the best."
For Jiwa, that means not just being the best golfer, but the best person.
"Through golf I've learned humility, respect and etiquette. And I try to apply that to all areas of my life. I understand that it's a privilege to be out there playing golf and that I'm very fortunate to be where I am at today," Jiwa said. "I let my condition motivate me and I hope that approach might inspire people in similar scenarios to strive to reach their goals and be the best they can be."