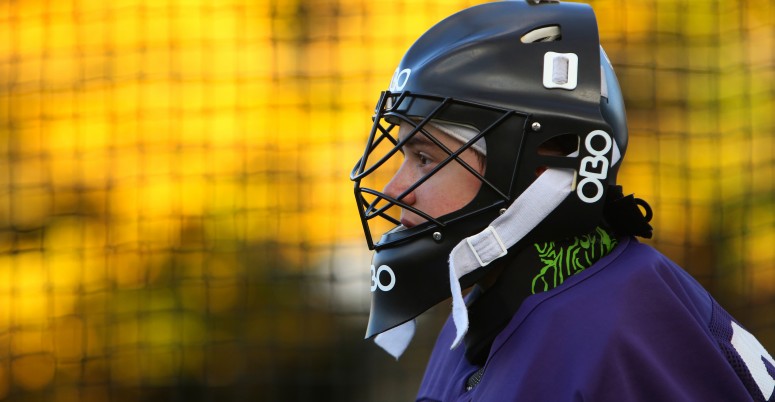 From Kenyon News - September 1, 2017
Seven Lords and Ladies teams are setting goals, solidifying formations and crafting game plans in preparation for the fall sports season. Expectations are especially lofty for Lords soccer and Ladies field hockey, as both teams made national tournament runs in 2016.
Cross Country
The Lords cross country team is coming off a 2016 campaign in which it endured some growing pains. This year's squad is still relatively young and lacks the depth of the women's team, but is hoping that previous lessons learned will translate into a well-rounded and improved team in 2017.
The trend of progress carries over to the Ladies cross country team, which has an abundant roster of 37, including four of the team's top-five scorers from last season. The Ladies approach their 2017 schedule with a preseason No. 8 regional ranking from the U.S. Track & Field and Cross Country Coaches Association.
Field Hockey
Armed with plenty of playoff experience, the Ladies field hockey team begins the season with great promise. The Ladies won the 2016 NCAC Tournament and then made a run into the second round of the NCAA Division III Tournament. Every starter from that team has returned for the 2017 season.
Football
With a roster of more than 70 players and three-straight seasons of adding one win to their overall record, the Lords football team looks to keep improving, especially after building a record-setting passing attack last season. The team has 46 letterwinners returning, including 13 starters.
Soccer
The Lords soccer team returns to the pitch as the defending North Coast Athletic Conference (NCAC) regular-season and tournament champion. The team is coming off back-to-back quarterfinal appearances in NCAA Division III Championship play and enters the 2017 season with a No. 5 national ranking from the United Soccer Coaches.
Back on the pitch, the women's soccer team is banking on a talented first-year class to fill the scoring void left by the graduation of several top Ladies. The team will be young, but the eight seniors on the roster are strong enough to steer the program to a fourth-straight appearance in the conference's postseason tournament.
Volleyball
Ladies volleyball will look to build on past progress as the team aims to post its third-straight winning season and earn a return trip to the NCAC Tournament. The Ladies bring back 14 players from last season, and a class of four first-years makes for one of the deepest rosters in recent history.