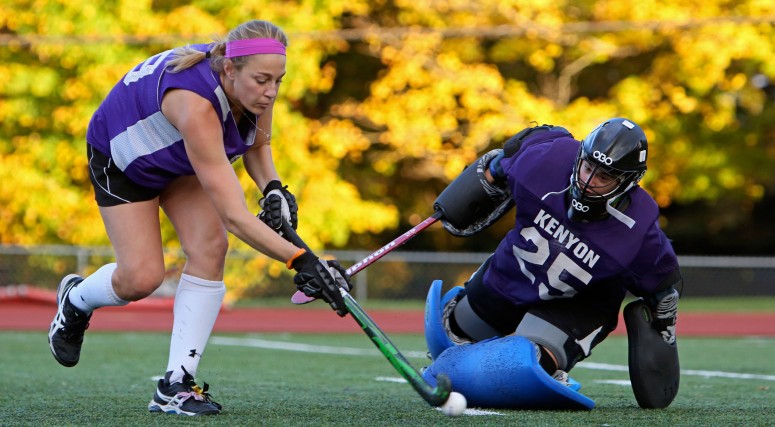 From Alumni Bulletin - February 19, 2016
Maddie Breschi '16 exits the field hockey program with College career records for goals (52), assists (27) and points (131). She's an All-American and the winner of multiple conference player of the year awards. Her presence on McBride Field helped accelerate a rebuilding process in which the Ladies went from a losing record her first year to capturing conference crowns in both her junior and senior seasons.
How have you made yourself stand out on the team?
The players and coaches that I have had the pleasure of playing with for four years are incredible people who have made me a better player and person. I believe that I just had the work ethic and the attitude that is suitable for collegiate sports. I wanted to practice, I wanted to play in every game and I wanted to push myself to see just how far I could go. I believe having that "want" translated onto the practice field and into games.
At any time during your career did you think, "Did I choose the right college?"
Never once. I knew I wanted that small-community Kenyon experience, and I wanted to join a field hockey program where I could genuinely help build something great. I wouldn't give up the opportunities I've had here at Kenyon and the friendships I've made for anything in the world. This school and its field hockey program are, and will always be, the perfect fit for me.
As a psychology major, were you able to apply your classroom studies to the field of play?
As a captain for three years, it was crucial that I was able to understand and learn what motivated each individual on my team. Some people respond differently to various coaching styles, and psychology helped me understand how to motivate each individual person. More important than each individual's effort is the team's effort. Every season we always have the same goal, but the way we get there can change based upon the team personnel. Psychology was crucial in understanding how to perform to the best of our abilities in order to accomplish our year-end goals.
Aside from wins and postseason appearances, what will be the most vivid memory of your Kenyon field hockey experience?
The overwhelming support from everyone. I feel so lucky to be a part of a team where each individual is genuinely supportive of each player on the team. I have never felt more supported, more appreciated or more loved as I do when I am with the Kenyon field hockey team. The wins and losses I will forget, but the friendships and the support I have experienced on this team are some that I will cherish and remember long after graduation.