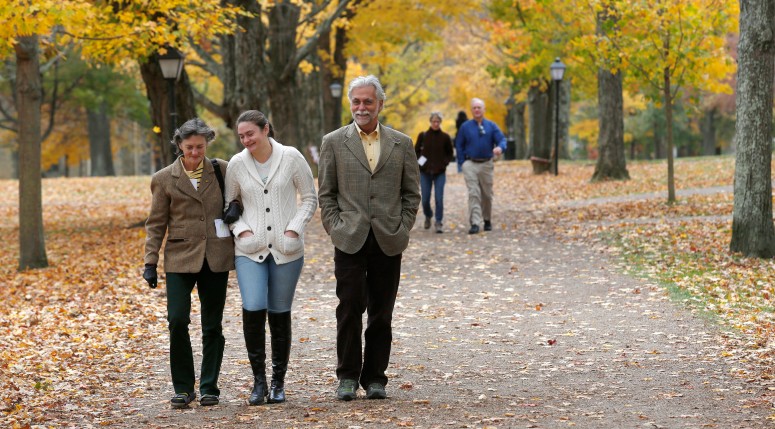 From Kenyon News - October 13, 2015
Fall means family time at Kenyon. About 1,200 relatives visited campus this year to celebrate Family Weekend Oct. 16-18.
It's a great time for parents to reconnect with their children and to meet other parents and families, said David Crouse P'16, co-chair of the Parents Advisory Council (PAC). "We've become friends with other parents and their students," said Crouse of his past Family Weekends to visit his daughter, Alexandra '16. "We've gotten to see them grow and mature."
Highlights of this year's events included a reception with President Sean Decatur and the faculty, historical tours of campus, performances by the a cappella group Kokosingers and the Symphonic Wind Ensemble, the Fall Harvest Festival at the Brown Family Environmental Center and three performances of Michael Weller's play Moonchildren.
In addition, the women's volleyball, field hockey and soccer teams; men's and women's swimming and diving team; and the nationally ranked men's soccer team all played at home over the weekend.
This was the fourth — and final — Family Weekend for Crouse and his wife Teresa, the other co-chair of PAC, who live in Petoskey, Michigan. Some of their favorite events over the years have been the exhibits at Gund Gallery, the performances by vocal groups and simply time spent lounging in the Adirondack chairs outside the science quad. But nothing, David says, rivals the scenery.
"The spectacular beauty of campus especially in the fall — our senses are just overloaded."
Scott Baker '94, associate vice president of alumni and parent engagement, concurs. "In many ways, Family Weekend is the pinnacle of the fall semester," he said. "Not only does our campus shimmer in autumn colors, but sporting, artistic and other student activities are in full swing. There's so much to see and do."