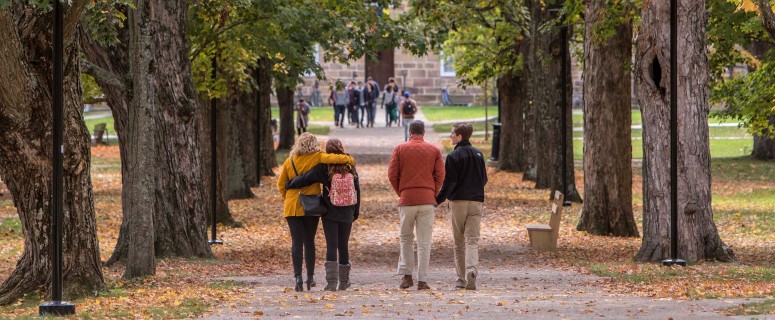 From Kenyon News - October 12, 2016
Whether families were visiting the Hill for the first time or were returning for their fourth year, Kenyon's Family Weekend 2016 was filled with an array of activities to keep relatives and friends entertained during their visit.
Family Weekend, which ran from Oct. 14-16 this year and was sponsored by the Office of Alumni and Parent Engagement, featured perennial activities such as a reception with professors and President Sean Decatur on Friday afternoon, as well as Saturday's Family Day at Gund Gallery. "We try to have many different activities on the schedule, so families can do as much or as little as they want," Bethanne Fowler, director of campus events, said. Fowler, along with Scott Baker, associate vice president of alumni and parent engagement, were key figures in planning the annual event, which attracts about 1,000 visitors.
"It's a great tradition, and it's certainly a weekend I look forward to," Baker said. "Kenyon parents are wonderful."
For Rick and Michelle Felty P'17, this was their third year visiting Kenyon for Family Weekend. The New Knoxville, Ohio, residents have visited every fall aside from last year, when their daughter, Lydia, was studying abroad in Oxford, England. Michelle has always felt welcomed on campus. "When you come to Kenyon, you feel like, 'Oh, they want me to be here,'" she said. "They want to show me everything they've got. It's almost as though they're recruiting us."
Rick enjoys experiencing Kenyon's community and closeness when he walks around campus with Lydia. "There's always people she knows," he said. "She's always introducing us to her friends or saying hi."
Highlights of this year's events included the Harvest Festival at the Brown Family Environmental Center; performances of the mainstage production of "Marvin's Room"; and concerts by the Kokosingers and the Kenyon College Symphonic Wind Ensemble. Saturday, the swimming and diving teams hosted a relay meet, and the football team took on Wabash College on McBride Field.
Fowler said there are always new activities for families to try. "There's so much going on, [families] can't possibly do everything every year, so they can check something else out next year," Fowler said. Some families may want to opt out of events and simply enjoy the campus with their students, she added.
For Michelle, the highlight of the weekend is seeing her daughter. "I think all of Family Weekend, as a parent, you're just proud your child chose this college because Kenyon is such a special place," she said. "I think Family Weekend magnifies that."
View a complete schedule of events.