From Kenyon News - June 3, 2014
Senior Sierra DeLeon and junior Wade Heerboth closed out Kenyon's 2013-14 athletics schedule with extraordinary performances at NCAA Division III Championship events. DeLeon, a sprint and hurdle specialist, earned two All-America finishes at the women's track and field championship, while Heerboth won his first two matches of the men's tennis singles championship and gained All-America status before bowing out in the quarterfinal round.
DeLeon did her work not too far from campus, as the track and field championship was held in Delaware, Ohio. On the final day of the three-day meet, DeLeon claimed the runner-up spot in the 100-meter hurdles by finishing the event in 14.12 seconds. That was the best NCAA outcome for a Kenyon female since Kelley Wilder won the 1,500-meter title in her senior season of 1993. Later that same day, DeLeon placed fourth in the 200-meter dash by clocking in at 24.59 seconds.
Prior to both of her amazing runs, DeLeon shattered Kenyon records during the preliminary heats for the same two events. She set those new marks at 14.05 seconds for the hurdles and 24.32 seconds for the dash.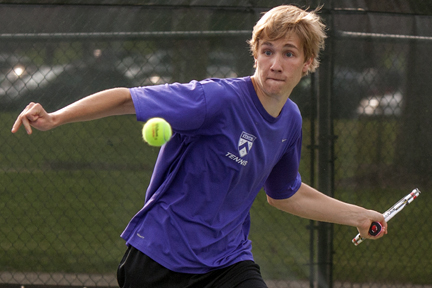 Meanwhile, at the Biszantz Family Tennis Center in Claremont, California, Heerboth hit the tennis courts as one of just 32 entrants in the NCAA Singles Championship. He commenced play with a 6-2, 6-1 victory over Alex Johnston from Middlebury College and then advanced to the round of 16. Once there, he nearly duplicated his first-round effort by ousting Moises Cardenas of Cal Lutheran University with a 6-1, 6-2 final.
The quarterfinal round then pitted Heerboth against Joe Dorn from the host Claremont-Mudd-Scripps Colleges. Momentum remained with Heerboth and paved the way for a 6-4 win in the first set. Dorn, however, replied with a 6-1 win in the second set and then held on to eliminate Heerboth with a 6-4 score in the third and deciding set. That result finalized Heerboth's season-long singles record at 20-6.