From Kenyon News - April 25, 2017
Kenyon joins the American Talent Initiative (ATI), a collaboration among 68 colleges and universities working to increase the number of talented low- and moderate-income students at undergraduate institutions across America.
Kenyon is one of 38 new members joining 30 founding members in the coalition. By 2025, ATI aims to educate at least 50,000 additional high-achieving, lower-income students at up to 270 colleges and universities with consistently high graduation rates.
"Higher education has the power to transform students, preparing them for real-world challenges and empowering them to be leaders in their communities," President Sean Decatur said. "This initiative will help students from all backgrounds thrive."
Students from lower-income backgrounds face a variety of challenges in accessing top institutions, including a lack of information about their options, uncertainty over cost and inadequate financial aid. ATI members are working together on four main objectives to help these students succeed:
Recruiting students from diverse socioeconomic backgrounds;

Ensuring that lower-income students enroll and are retained;

Prioritizing need-based financial aid;

Minimizing gaps in progression and graduation rates between students from lower- and higher-income families.
"We know that when these high-achieving, lower-income students attend these colleges and universities, they graduate at higher rates and have a much greater opportunity throughout their lives," said Martin Kurzweil, director of educational transformation program at Ithaka S+R, a nonprofit organization coordinating the ATI. "We're aiming to help all ATI members enhance their own efforts to recruit, enroll and support lower-income students, learn from each other, and contribute to research that will help other top colleges and universities expand opportunity."
"For its part, Kenyon is prepared to expand its outreach and service to high-achieving students of high financial need. We'll build on well-established access and diversity programs that have supported a graduation rate of 88 percent for Pell-eligible students," said Diane Anci, vice president of enrollment management and dean of admissions and financial aid. "This initiative will help Kenyon bring more brilliant students to campus, enriching not only their lives, but the experiences of everyone in our campus community."
Joining the initiative advances Kenyon's ongoing effort to expand access to low-income students. This year, Kenyon is growing by 50 percent the number of students in the Kenyon Educational Enrichment Program, which recruits and supports underrepresented and first-generation students. The college also is boosting its financial aid budget by more than 10 percent for the next academic year. Kenyon continues to strengthen its Camp 4 summer program and its Kenyon Academic Partnership, programs designed to benefit low-income students in Ohio.
The ATI is supported by Bloomberg Philanthropies, which hosted a February meeting with presidents of most ATI members and former New York mayor Michael Bloomberg. Two nonprofit organizations, the Aspen Institute College Excellence Program and Ithaka S+R, are coordinating the initiative, studying and tracking its progress, and publishing updates on the American Talent Initiative website.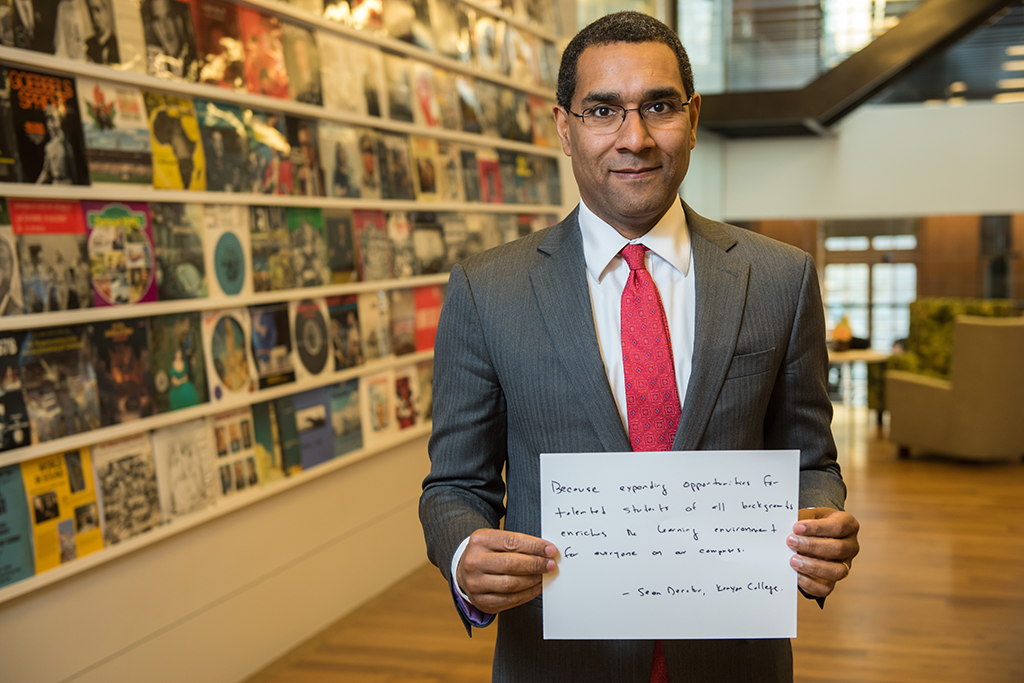 "Because expanding opportunities for talented students of all backgrounds enriches the learning environment for everyone on our campus. — Sean Decatur, Kenyon College"