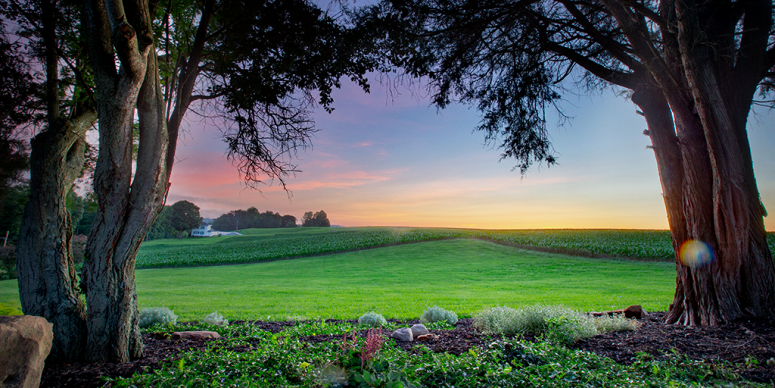 From Kenyon News - December 7, 2018
On a planet increasingly threatened by climate change, environmental sustainability — maintaining an ecological balance — may no longer be enough. Instead, some communities have begun to focus on resilience — the ability of an ecosystem to bounce back from a disturbance and regain balance.
Last fall, Kenyon launched the Rural Resilience Initiative, which aims to examine Knox County — an area that has worked to preserve its rural character — as a resilient community and provide a deeper understanding of Kenyon's surroundings.
In starting this initiative, Director of Green Initiatives Dave Heithaus '99 and John B. McCoy Banc One Distinguished Teaching Professor of Anthropology Bruce Hardy hope to better connect different parts of the College that focus on Kenyon's unique rural location and to give them a stronger academic focus.
"Part of what we are trying to teach is how to be a good citizen from a classroom all the way out to the planet, and of course you have to understand the environment in which you're a citizen," Heithaus noted.
"Really, at the heart of all of this, we're trying to imbue in our students a sense of place, and to build a skill set that transports across different types of communities."
Faculty are a key part of this work to integrate the concept of resilience across the curriculum, and so far, 15 courses now include themes relevant to rural resilience. Among these classes is "Sculpture and Place," which explores artistic, social and ecological aspects of sculpture with an emphasis on landscape and place. The class spends time at the Kenyon Farm to learn more about materials and practice.
"It really is creating civically minded global citizens," Hardy said. "By teaching students this kind of character, it makes their time here at Kenyon more meaningful, and your life is more meaningful if you are connected to your community."
Sigal Felber '21, from Verona, Wisconsin, was compelled to learn more about her surroundings after taking the "Life Along the Kokosing" seminar, which is connected to the Rural Resilience Initiative. In the seminar, Felber and her classmates studied how natural, economic, social and cultural conditions inform rural character and personal identity. The class focused on Knox County, exploring its landscape and interacting with individuals knowledgeable about community life.
"I find it necessary and fulfilling to feel aware of where you live in order to gain a sense of belonging and a greater view of surrounding opportunities," Felber said. "So often, especially for busy college students, it is easy to feel lost and unwelcome. I think students can combat this disconnect by getting to know people who are rooted in the community. By doing so, students in turn will feel more connected and gain a new sense of belonging."
Felber is also part of the Rural Cause, a student organization that seeks to strengthen Kenyon's ties to its place in rural central Ohio. The group was founded last spring by Dan Napsha '21, a political science major from central Pennsylvania.
"It definitely helps in every aspect of one's life to feel a connection to your home," Napsha said. "It helps you feel more at peace; it provides a feeling of belonging, welcoming."
This student organization developed independently from the Rural Resistance Initiative, but they share goals. "We're happy to have students around that also recognize the rural character of the College, and I think that's going to be a good thing going forward. They can help build interest," Hardy said.
The Rural Resilience Initiative is supported by a grant from the Arthur Vining Davis Foundation, which also funds projects of the Rural Life Center, a partnership that promotes education, scholarship and public projects about Knox County. In addition to the Rural Life Center, Kenyon's Brown Family Environmental Center and the Kenyon Farm also work to engage the community with natural diversity and are incorporated into the Rural Resilience Initiative.
— Betül Aydin '21