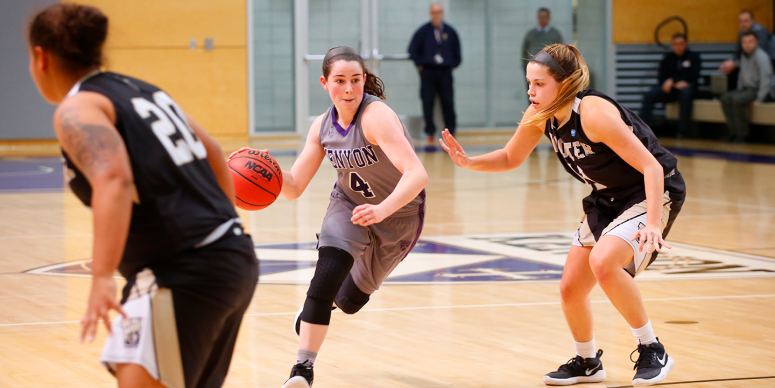 From Kenyon News - February 9, 2018
Head Women's Basketball Coach Suzanne Helfant came into this season, her 23rd at Kenyon, with another talented roster — one that had seen a lot of playing time and had helped the Ladies attain 37 wins during the previous two years.
But after the loss of a big senior class in 2017, some wondered if Kenyon might take a slight step back.
That has been far from the case.
"If we approach the season with a mind-set that we're not going to look too far back or too far forward, I'll think we'll be fine," Helfant said to her team when it reconvened in October to start preseason camp.
The approach worked. The Ladies own the program's best record since the 1996-97 squad opened 20-1. That team finished the year 26-2, won the North Coast Athletic Conference (NCAC) and participated in the NCAA Division III Tournament.
Within the NCAC this year, Kenyon is in a strong position. The team's conference record has the Ladies right behind perennial national contender DePauw University.
One of the main reasons for the Ladies' ascension has been a breakout season from Paige Matijasich '20. A native of Pickerington, Ohio, the guard's shooting ability has shined brightly this year. She has scored in double figures 17 times and is the league's second-best scorer, averaging 14.5 points per game.
"What we are seeing this year from Paige is a stronger, more confident version of herself," Helfant said. "She has such a well-rounded game; she scores, rebounds and defends the opposing team's best offensive player. The thing I love about her the most, though, is her competitive fire."
Fellow teammates Jessica Gerber '19 of Newtown, Pennsylvania, and Sharon Hull '19 of Stewartstown, Pennsylvania, also have stepped up to form one of the best combinations of guards in the NCAC. Gerber, a political science major, has ranked in the top five in scoring and assists throughout the season while Hull, a history major, has hit nearly 40 percent of her 3-point shots.
Collectively, the team has been difficult to beat on multiple fronts. Helfant's squad ranks second in 3-point field goal percentage and scoring defense. Kenyon also ranks second in the NCAC in scoring and turnover margins. The team's most potent weapon has been its 3-point shooting as the Ladies lead the league in 3-point makes per game.
The Ladies, who have made back-to-back NCAC Tournament semifinal appearances, hope to break through for the program's first conference title since 2000.
"Playing with confidence down the stretch will determine our path," Helfant said. "We have great team chemistry, with just the right balance of work ethic coupled with true joy when we are around each other. I want more than anything for this team to be rewarded."