From Kenyon News - March 4, 2020
Dylan Manning '22, an English major from Spring Valley, New York, spent the fall 2019 semester as an intern on the weekly late-night TBS show "Full Frontal with Samantha Bee" in New York City.
The first time I met Samantha Bee face-to-face was in an elevator. It was just me, my comedy hero and her bodyguard. She ran in as the doors were closing, and I found myself staring awkwardly at her shoes. They were silver and had stars on them. I had to say something. Something smart and funny that would ensure she remembered me.
"I like your shoes," was the brilliant line I came up with. She said thanks, and added something about how good shoes are hard to find. "I don't know if I've introduced myself before," I added (I obviously hadn't), "but I'm an intern." She said hello and shook my hand, then asked me my name. I had forgotten the key part of introducing myself: my name. "Dylan," I said.
"Nice to meet you." A beat passed. "Done for the day?"
"No, I'm going to Costco."
"Oh. Where's Costco?"
"I have no idea, I'm just getting in a van with someone and going."
She laughed a little at this. Then the elevator opened, she wished me luck and we both went our separate ways. Costco turned out to be extremely far away, but I didn't even care because Sam Bee had given me her blessing. Here's how I got to that moment, as well as a few lessons I learned while working as a production and field intern for my favorite late-show host.
I. Getting the internship
I had a general idea of what I was looking for: an internship that combined comedy, writing and television. These are the things I'm passionate about, and the idea of interning at a place that made those things happen was my dream. At the beginning of the summer, I applied to every show I was remotely interested in and also to every show I wasn't. If there was an application, I filled it out. Several months passed before I heard anything from anyone and, for a few weeks towards the end of the summer, I thought I might even spend the year studying abroad in England.
Then, I got an email inviting me to the second round of applications for "Full Frontal with Samantha Bee" at TBS. I love Samantha Bee for her ability to fight and expose corruption, injustice and general political B.S. using humor, logic and facts. I was asked to respond to a series of questions (and send in my favorite meme). That was followed by a Skype interview with a few members of the show's production and digital teams, and then, after a few weeks in limbo, I got a call offering me the job.
My initial plan was to take a couple of classes at New York University to remain academically active while also working at "Full Frontal." Because Kenyon isn't used to working around students who take semesters off to work for TV shows in New York City, I was forced to navigate a lot of infuriating and unnecessary red tape on my own. Making the decision to follow through with the internship, while knowing that I'd need to take a semester off from Kenyon to make it work, was frustrating and scary at times, but I'm really glad I did it. And obviously, Kenyon is too, because they've asked me to write this article.
II. Runs, research, and lots and lots of receipts.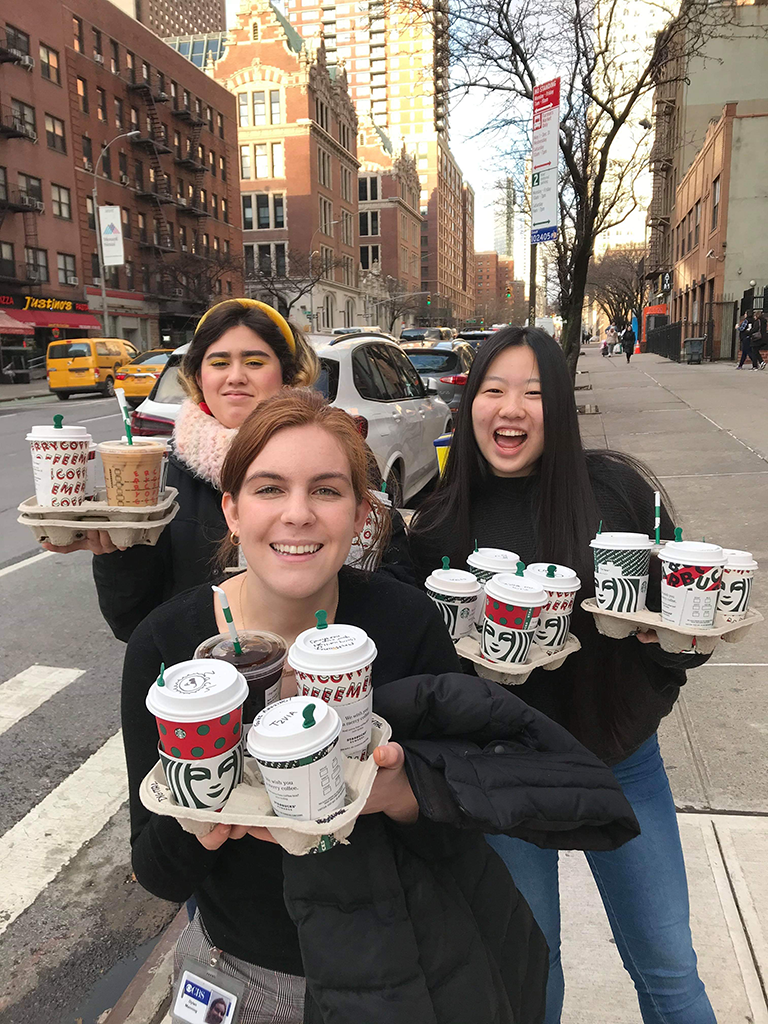 Walking into the office on my first day was overwhelming. There was an organized chaos to the place; everyone was capable and confident. The show ran smoothly, and in the beginning, I felt out of place and was worried that I was disrupting the flow of things. But after a while, and thanks to everyone in the office being friendly and helpful, I got the hang of it. It's strange, after selling all your skills and talents during the interview process, you show up to work and are handed a list of coffee orders. Or you are tasked with carrying a $1,600 Santa Claus suit 20 blocks that David Alan Grier will wear later that day. (This totally didn't happen to me, this is just a random hypothetical example.)
At first it seemed a little confusing: Why was the application process so laborious if we're just running errands? And for no pay? I asked myself these questions a lot in the beginning, but after a while, I realized that you're never just running errands, or just taking notes in a meeting, or just doing research. These things aren't happening in a vacuum. A TV show is a massive machine that relies on dozens of talented individuals with different skill sets to function. If you pay attention, you start to learn how the machine works by being a part of it. And as you learn, you also start to intuit what people are going to need, and how the show will move forward. Most important, you start to build meaningful relationships with the people around you.
III. Show day!
Wednesdays — show days — were the longest days, and also the most rewarding. Every other day of the week led up to Wednesday. Mondays and Tuesdays, the writers write most of the script, but depending on what's going on in the news, a lot of writing can happen on Wednesdays, too; we'd get into the office at around 9 a.m. and leave close to 9 p.m. On show days, interns took turns working in the office or in the studio. In the office we'd joke-check scripts to make sure we hadn't inadvertently taken any material from other late-night shows, deliver coffees and lunches, and do whatever else was needed to help the staff. In the studio we were essentially production assistants, printing and distributing scripts, and helping out in the control room.
When it was showtime, we all would gather near a monitor and watch the show. I was always impressed by Bee's professionalism and the way she could charm a live audience in a matter of seconds. One of my favorite parts of show day was eating dinner with the team after filming. The office production assistants always had delicious food delivered to the office. One of the writers made it a practice to dine with the interns and invited us to ask him anything. He'd had an amazing career trajectory, working at the DMV in Maryland until he was 44 (ironically, he never learned how to drive). Then, one day he sent in a writing sample to "Full Frontal" and landed a job on the show. One of the best things he taught me was that you don't need to start early to make it in comedy writing. In a world where we often feel pressure to secure an internship every summer, it was refreshing for someone to say that you don't always need immediate validation to succeed. Career trajectories are rarely linear, especially in the world of TV.
IV. Keeping in contact.
Toward the end of my internship, we had the opportunity to talk to the writers during an informal panel. They were extremely generous with their time and answered every question we threw at them with honesty, detail and humor. As I sat there listening and laughing, I understood why the scripts were so funny and fearless; they reflected the group of people behind them every week. One of the writers whose comments I'd especially appreciated at the panel told us we could feel free to email her. When I asked a question about finding writing inspiration, she said that sometimes it's okay to let boredom happen to you, and not pressure yourself to be funny or have ideas. That really resonated with me. After I left, I emailed her, and we had a lovely phone call in which she gave me some great insights into next steps for me as I work toward my goal of becoming a TV writer.
Throughout the experience, I made friends with other interns. Not just fleeting friendships, but relationships I hope I'll have for many years. There were some really talented interns with a variety of interests, from playwriting to community outreach, and I can't wait to see what they all do out in the world.
Overall, taking the risk of putting college on hold for a semester for an internship in New York City was well worth the effort, despite the inherent risks and frustrations. Hopefully, as Kenyon commits to providing students with a wider variety of high-impact learning experiences, these paths will become less bumpy and more students will consider taking a semester to intern somewhere in a field of their interest.