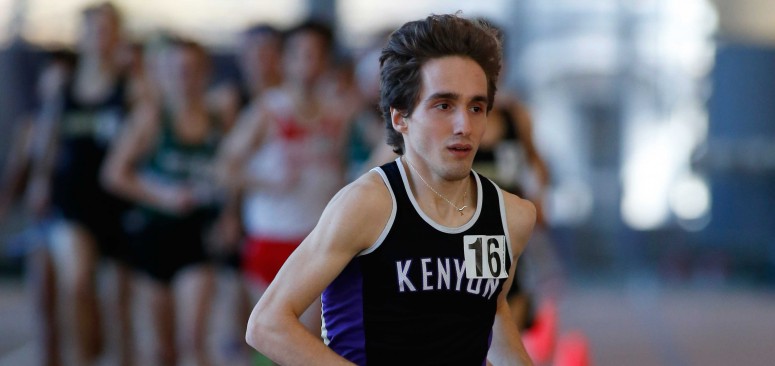 From Kenyon News - May 4, 2016
A funny thing happened to long-distance runner Sam Lagasse '16 on his way through his senior year: He recorded some of the best times of his career. His performance surprised him because he was preoccupied with academic pursuits such as visiting graduate schools, applying for scholarships and writing his senior honors thesis.
"I had a lot going on," said Lagasse of Westmoreland, New Hampshire. "I told myself at the beginning of the year that I was going to put running on the back burner, but I actually have been running better because I am not putting extra pressure on myself."
Lagasse has been running so well, in fact, he qualified to compete in the 5,000-meter race at the 2016 NCAA Division III Men's Outdoor Track and Field Championships. Despite owning three Kenyon records (in the 3,000-, 5,000- and 10,000-meter races) and winning numerous honors in track and field and cross-country, this is his first trip to the nationals.
"It's a huge deal, I'm really excited about it," he said. His personal best in the 5K is 14 minutes 23 seconds. He thinks the winner will finish in under 14 minutes. "I think I can shave off a little bit more from my time, but I'll have to wait and see how much exactly."
Lagasse's classroom achievements are as impressive as his athletic accomplishments. With majors in English and religious studies, he wore a path to the podium on Honors Day, collecting three prizes in the past two years.
Lagasse, who carries a 3.95 grade point average, was a finalist for a Rhodes scholarship and a semifinalist for a Fulbright fellowship. "Sam was a careful listener (who) engaged in constructive dialogue with others in creative ways. His participation in my classes was always a special occasion for me," said Royal Rhodes, Lagasse's academic advisor and the Donald L. Rogan Professor of Religious Studies.
Lagasse focuses his area of study on colonial and postcolonial literature, particularly literature from South Asia. "My best professors at Kenyon studied South Asia," he said, citing Assistant Professor of English Pashmina Murthy, the Roy T. Wortman Distinguished Professor of History Wendy Singer P'14 and Professor of Religious Studies Vernon Schubel as especially influential.
Lagasse "demonstrates an intellectual curiosity that is so important to academic research," Murthy said. "He spent last summer learning Bengali at the University of Wisconsin in Madison to further his understanding of Indian literature."
With the aid of an NCAA postgraduate scholarship, which awards student-athletes who excel academically, Lagasse will attend Cornell University with an eye toward earning a doctorate in English. He is hopeful for a career in teaching and plans to continue his work on behalf of social justice.
He co-founded Kenyon Athletes for Equality to advocate on behalf of LGBTQ athletes in the Kenyon community. The group helped push for a participation policy for transgender students in the Student-Athlete Handbook. "His pioneering role on our campus to discuss the challenges and contributions of LGBTQ athletes has been exemplary," Rhodes said.
No matter where his future takes him, Lagasse plans to go there running. "I want to keep training through graduate school and eventually run marathons," he said. "The great thing about running is that there are road races everywhere."
Editor's note: Senior Sam Lagasse claimed a tenth-place finish in the 5,000-meter run at the NCAA Division III Championship on Saturday May 28.